For quite a long time, AXE (or Lynx as it's called in Europe) has been cherishing the idea of developing the perfect saving water method in line with its previous controversial approaches. Last year, the brand even launched a campaign, encouraging people to take shower together at once in order to use less water, and now it has pushed the initiative further and set the new Guinness world record for Most people showering simultaneously (single venue). Lynx invited 152 Brits, both guys and gals, to partake in the event and be the ones who would help the whole thing happen.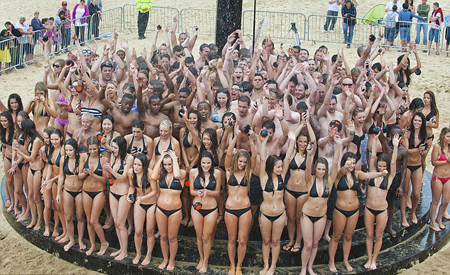 Image: www.worldrecordsacademy.org
The simultaneous social shower event was arranged on Bournemouth beach in the UK—for the breaking the previous Guinness world record attempt, which was organized in the USA and featured 145 people, the brand installed the giant 6-metre Lynx Shower. Young people, in bikini and swimming trunks, arrived to the spot both from the neighboring areas and quite distant towns on August 13 to partake in an extravagant event despite chilly weather conditions. The simultaneous shower movement was rolled out across the country last week as the brand invited its fans to visit V Festival at Hylands Park on August 20–21 and experience the power of social shower there.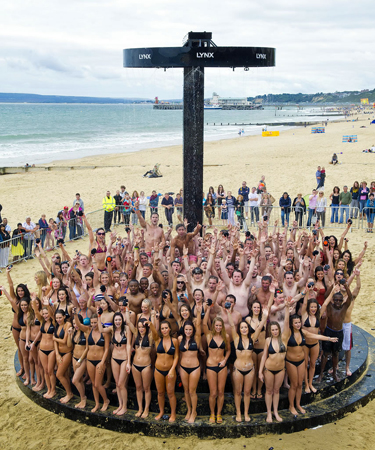 Image: www.worldrecordsacademy.org
"The people of Bournemouth have to be applauded for getting into the spirit of the day and taking a shower together," commented Anna Orford, the official adjudicator for Guinness World Records, on the attempt. "Lynx now plans to take the shower on tour across European beaches and music festivals," reports the official website of the Records.
Last year, the brand also arranged an unparalleled marathon called 'AXE Undie run' in the U.S. to engage fans in a charitable initiative.