Legendary rock group Motley Crue and Jack Daniel's Tennessee Whiskey have teamed up to provide a one-of-kind offering at the upcoming Sunset Strip Music Festival.
A special barrel of the world famous Tennessee whiskey was selected and donated to the Skylar Neil Foundation in honor of Motley Crue's 2011 Elmer Valentine Award they'll receive at the Festival for their contributions to the history of The Sunset Strip. Approximately 290 commemorative bottles will be available at the SSMF Tribute Night on August 18th for a recommended donation of $100 to the Skylar Neil Foundation.  Each bottle will include a medallion with the engraving, 'Specially Selected for Motley Crue.'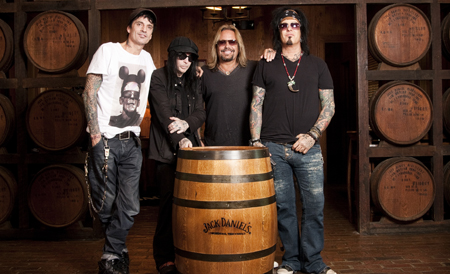 According to Jack Daniel's Master Taster Jeff Norman, the whiskey is particularly well balanced with a hint of soft oak, caramel and vanilla and a pleasing spicy oak finish – the perfect accompaniment for enjoying some serious rock 'n' roll.
«It's hard to imagine rock 'n' roll without Motley Crue or Jack Daniel's, and we're honored to have bottled this special offering for our friends at the Foundation,» said Norman.  «And we're particularly pleased that donations will go to a worthy cause close to the band.  As 'The Crue' returns to their roots on The Strip, we couldn't be happier to be part of this special occasion.» In addition to the commemorative bottles, a Jack Daniel's barrel signed by the band and a framed Jack Daniel's Sunset Strip street pole banner will be available at the silent auction on the Tribute night.
«Igniting the music scene in the early '80s with a sound and style that blended punk, glam and heavy metal, Motley Crue helped re-establish The Sunset Strip as one of the top music destinations in the world,» says SSMF Executive Director Todd Steadman.  «The band has forever left their mark on the music industry and The Sunset Strip, and we're looking forward to celebrating their influence and bringing their spirited energy back home during this year's tribute event. We're happy that our friends at Jack Daniel's are joining the party and providing a unique experience to compliment this special occasion.»