Pilsner Urquell announced the winners of its 2011 Master Homebrewer competition at events held in New York City, Washington DC and Chicago last week.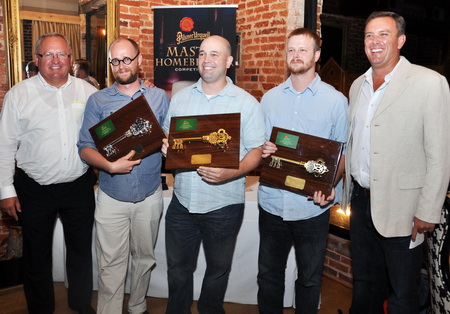 The task was to re-create the legendary Czech-style pilsner in a homebrewer's own way. The criteria to choose winners were: 70%—accuracy to BJCP style (Czech-style pilsner), 15%—cleanliness (absence of off flavors) and 15%—artistic impression.
Skilled and enthusiastic competitors were inventive but precise while re-creating the one of the world's most popular pilsner.
«I can tell you that some of the homebrews were spot-on when it came to the Czech-style pilsner. This is not an easy style to recreate. These homebrewers are truly skilled at what they do, and it's very exciting to see this community growing throughout the United States.» said Vaclav Berka, Pilsner Urquell's sixth brew master in the brand's 169-year history, who judged the homebrews at each event.
Out of 125 competitors, only three were able to meet the criteria in the best way: Philip Jensen of State College, Pennsylvania, Aaron Hermes of Leesburg, Virginia and Jeff Lewis of Hilliard, Ohio. Happy winners will travel to Plzen, Czech Republic later this year to tour the historic brewery and attend the International Master Bartender Competition in Prague.
The event details and photos are available at the competition Facebook page.
«Since 1978, when the homebrewing bill was signed, there has been a steady, growing interest in homebrewing in the United States,» said New York event judge Samuel Merritt, Certified Cicerone and president of Civilization of Beer Inc. «The American Homebrewers Association estimates that some 750,000 homebrewers brew beer at least once a year in the US and, having tasted these Czech-style Pilsner homebrews in New York, there are many people doing it quite well.»
Joseph Groll brewed the first golden beer in 1842. Since that time the brand has been gaining popularity worldwide. In May, Pilsner Urquell that now belongs ro SABMiller, launched global creative campaign 'The Legends of Pilsner Urquell,' featuring an animated short film to celebrate 'The Day Pilsen Struck Gold'.