Sony Ericsson teamed up with McCann Erickson, Munich to develop a campaign, which is centered on and inspired by the urban environment. The marketing project dubbed Challenge was designed to promote the Xperia handsets by showing what people can do with the devices' screens. The brand has launched several absolutely stunning vignettes, 'challenges,' revolving around using the smartphones in urban environment, and launched the interactive Challenge the City game in a dedicated hub on its official page.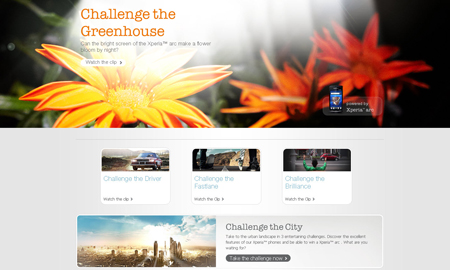 In the videos, the brand is showcasing the phones' possibilities, which help the devices become a perfect fit for those who live in the urban settings. The videos include 'Challenge Greenhouse' (the experiment, in which Xperia аrc's is used to make a flower bloom by night), 'Challenge the Fast Lane' (in which two skateboarders are sliding down the busy streets, looking only at the Xperia neo screen in their specially designed masks) and 'Challenge the Driver' (in which they replaced the stunt driver's windscreen with three Xperia arc screens). The fourth video, 'Challenge the Brilliance,' is exploring another side of urban life—"Free-flying, sliding and skipping through the cityscape—can you create a new way of photography with the Xperia™ neo?" saysSony Ericsson in the description to the spot.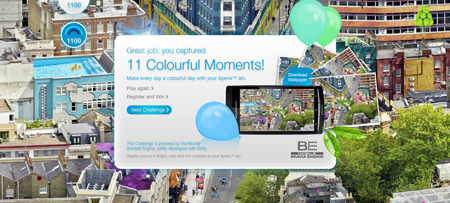 The brand is also inviting its fans to challenge the city by 'capturing most bright moments' in the new interactive game and register for the competition for a chance to receive a Experia arc.
Sony Ericsson was featured on the list of the brand, which are 'doomed' to extinction next year, along with Nokia, which has recently released the awesome, the world's largest stop motion animation clip, developed in collaboration with Wieden+Kennedy. After three years of fruitful partnership, on August 5, the two giants announced they were going to split.