Kleenex has introduced its new innovative product—Kleenex Cool Touch, facial tissues that contain relieving ingredients to help sore noses. The ad campaign is not far off.
The Kimberly-Clark brand that invented facial tissue 87 years ago know well when to roll out its ad campaigns. For example, last January it invited Americans to 'share softnes' or suggested Hispanic kids to 'catch sneeze'. The high season for facial tissues has begun and it means a monthly sales increase as much as 65 percent over the summer months, says the NewYork Times.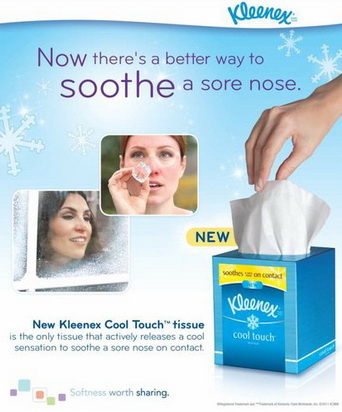 Photo: Kleenex
Kleenex sales have dropped since the economic downturn in favor of cheaper store brands. Now Kleenex has something brand new on offer. A Cool Touch commercial created by JWT New York is to be introduced next Monday, and the campaign will include print and online advertising. Social media will also be involved.
"This really is a game-changing innovation," said Craig Smith, the brand director for Kleenex. "This is the only tissue that releases a cool sensation, and it takes soothing to a whole different level."
Kleenex Cool Touch is unscented lotion-soaked tissues that contain 'sneeze shield'. The relieveing effect brings the product from the personal care to pharmaceutical products.
Kleenex has a 47.1% share of the facial tissue market, followed by P&G's Puffs, with 24.9%, and private labels, with 22.3 percent. Kleenex doesn't unveil how much it will spend on the campaign. In 2010 it spent $51.9 million on advertising, compared with $29.5 million by  Puffs, according to Kantar Media.