AXE would lose its unique style if it decided to turn respectable and stop balancing on the edge of decency. And that's why it's not going to change its style at all. The brand, well-known for its controversial campaigns revolving around sex-related themes, released a bunch of short ironical spots, which offer another approach to discussing the embarrassing topics. The vignettes, which were uploaded to the AXE Canada official YouTube-channel, appear in the top section on the AXE Channel website for male consumers, which provides them with valuable tips on a very wide range of topics and humorous content.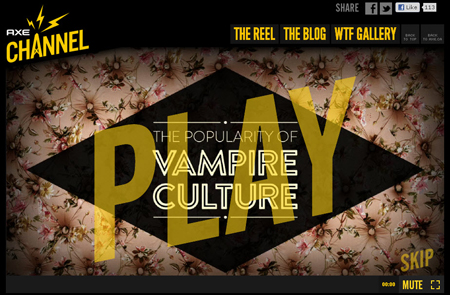 Photo: The AXE Channel website front page
The videos, which keeps people laughing between the launches of bigger initiatives, come in three series, which use a different approach, but are united by the theme—talking about things, which are not usually discussed in public (or just implementing these points in a very seductive manner). The name of the first set of videos is 'Boring, Serious Stuff That's Suddenly Strangely Fascinating'—in these spots, a voice behind the video talks about extremely dull things such as the parliamentary systemic or Oxford comma usage, but thanks to the girls in the vignettes, the explanation isn't boring at all. In the next series called 'Modern Day Phenomena Explained By Old People' features the pre-Beetles era people talking about social media and modern movies. The third one is dubbed 'Shakespearean Sexts'—there Shakespearean actors are standing on the stage and reading texts unveiling modern relationships reality.
AdWeek reports that "Crispin Porter + Bogusky did the videos; Harbinger and Mindshare also contributed content." Last year, AXE Canada launched a water-saving campaign, encouraging male and female consumers to take shower together—to use less water and get to know each one better.