Virgin's owner Sir Richard Branson prepares to launch the Branson Centre of Entrepreneurship in the Caribbean on September 8. The Branson Centre of Entrepreneurship in the Caribbean will be a launchpad for entrepreneurs who want to grow successful and responsible businesses.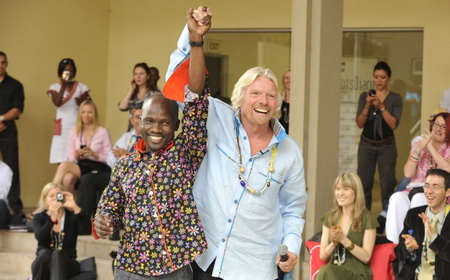 Photo: www.bransoncentre.org
The Branson Centre of Entrepreneurship Caribbean will be based in Montego Bay, Jamaica with smaller virtual 'satellite' centres developed across the Caribbean on a bespoke basis as increased levels of funding and business sponsors get involved, is explained on the official Centre website.
The first Branson Centre of Entrepreneurship was established in 2006 in Johannesburg, South Africa.
The first entrepreneurs set has already joined the centre. Virgin Unite and the Branson Centre have profiled some of the entrepreneurs, who have good capabilities of different business ideas and skills to develop.
Richard Branson said: «Entrepreneurship is a crucial factor in creating a strong and sustainable economy, and there is so much untapped entrepreneurial potential in the Caribbean.
«By coming together in Jamaica, we can harness the Branson Centre's full potential to inspire young entrepreneurs and create opportunities for future generations.»
The Branson Centre of Entrepreneurship Caribbean will only support: candidates with a proven track record of entrepreneurial activity—an idea alone is not enough. As well as aspiring entrepreneurs that can demonstrate a strong social commitment—job creation in disadvantaged communities is an integral part of the business model. Small and growing businesses that have strong financial, social and environmental credentials can also apply. The preference is to individuals that are between 18 and 35 years old and businesses that support the Caribbean's tourism industry.
Richard Branson founded Virgin Groups in 1970. Since then Virgin has created more than 300 branded companies worldwide, employing approximately 50,000 people, in 30 countries. One of its companies, Virgin Holidays, the tour operator with such destinations as the USA and Caribbean Africa, the Middle and Far East, the Indian Ocean and Australasia has committed over $3 million to the Branson Centre.