Coca-Cola Great Britain is today launching a new PlantBottle packaging. To celebrate the eco-event the company tasked designer Wayne Hemingway (who is also developing a new uniform for McDonalds) to help communicate the environmental message to consumers, creating a limited-edition umbrella, with fabric made entirely from 100% recycled plastic bottles. The umbrellas are exclusively being sold at Harvey Nichols.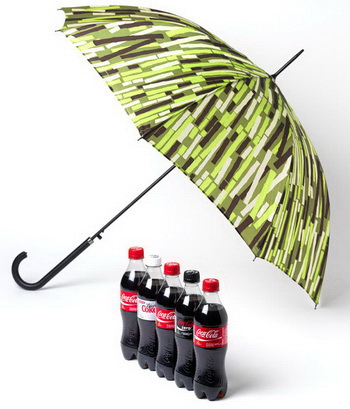 From today all Coca-Cola, Coke Zero and Diet Coke in 500ml bottles in the UK will be sold in PlantBottle packaging—PET plastic bottles made partially from plants. Made from up to 22,5% plant-based materials and up to 25% recycled plastic, more than 200 million packages are due to hit shelves in GB this year. Over 5 billion PlantBottle packs will be on the market in 20 countries by the end of 2011.  The company's ambition is that all its plastic bottles will be made from a combination of plant-based materials and recycled PET plastic by 2020.
On September 9, Coca‑Cola Enterprises Ltd (CCE) initiated a recycling event at the Sainsbury's Super Saturday, a  celebratory event marking 'one year to go' until London Paralympics 2012.  In support of CCE's sustainability goals, an innovative recycling solution, Swap for Swag encouraged about 20,000 attendees to recycle their empty plastic bottles in exchange for eco‑friendly festival souvenirs.
This event marked the final Swap for Swag of 2011, following successful ones at the Isle of Wight Festival, T4 on the Beach, Underage Festival, V Festival Weston Park and Notting Hill Carnival. As a result 6 tones of plastic bottles have been collected during this year. Over 140,000 bottles swapped for nearly 10,300 items of eco‑friendly swag. In addition, the Swap for Swag baler and production office was powered by a solar generator and panels.
Festival‑goers were invited to make their own recycled fashion accessories, have their photo taken in the CCE photo‑booth; and then upload the photos onto Facebook. By inspiring visitors to get involved in the recycling process, CCE's Swap for Swag tried to collect and give a second life through recycling to as many bottles as possible. During the festival people could swap their empty plastic bottles for limited edition festival essentials made out of recycled PET: rain ponchos, hoodies and T‑shirts.
Coca‑Cola Enterprises' Recycling Director, Patrick McGuirk said: "Following the huge success of the Swap for Swag shop at festivals and cultural events this year, we are expecting to end the summer with a bang at Sainsbury's Super Saturday. We hope to engage even more consumers and make recycling easier than ever before for them."
The company has been launching recycling activities worldwide. Another smart campaign took place in Israel in June.
Last year, Coca‑Cola Enterprises won the Best Sponsor Activation award at the UK Festival Awards 2010 for its Recycling Program. CCE is committed to recover the equivalent of 100 percent of its packaging by 2020.