Getting ready for London 2012 Olympics, Coca-Cola rolls out a global integrated campaign, Move to the Beat. The campaign will demonstrate the 2012 Games and sport in general in a way to inspire young people around the world.

Photo: Coca-Cola
The core element of the campaign will be a music anthem created by Grammy award-winning producer Mark Ronson and chart-topping British vocalist Katy B, the anthem fuses the sounds of Olympic sports with the beat of music. Before the global release, the process of the song creation will be captured in a 60-minute documentary. The anthem will also be the soundtrack for TV commercials, mobile and digital platforms and Coca-Cola events during the Olympic Games.
«The number one passion point for teens is music,» said Shay Drohan, Senior Vice President of Sparkling Beverages at The Coca-Cola Company. «Through Move to the Beat, Coca-Cola is inspiring teens around the world to move to the beat of London and come together in the biggest Olympic Games activation in our 84-year partnership.»
The Coca-Cola Olympic ambassadors come from around the world: Darius Knight, 21, is a UK table-tennis player; Kseniya Vdovina, 24, is a Russian runner; David Oliver, 29, is a U.S. hurdler; Dayyan Jaffer, 17, is an archer from Singapore; and Mexican taekwondo star Maria Espinoza, 23. They all worked closely with Mark Ronson to provide the unique sounds of their sport for inclusion in the music anthem. Ronson traveled across 5 countries and 4 continents to meet with each of the athletes and record the sounds of their sports in their hometown. The athletes will appear in Coca-Cola advertising, interactive digital and mobile apps during and after the Olympics.
Coca-Cola's campaign launch event was held yesterday at the new Olympic stadium in East London. Mr. Ronson and Katy B performed the anthem in front of a select audience of 1,000, including students and the young athlete ambassadors. According to Ad Age, Mother London is creating a global spot around this live performance.
Another important part of the campaign global activation will be sustainability. During the London 2012 Olympics, all Coca-Cola products will be served in 100% recyclable packaging and every empty bottle recycled at the venues will be turned back into a new bottle.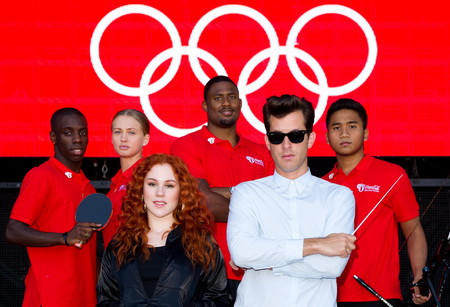 Photo: Coca-Cola