Doritos yesterday rolled out its annual Crash the Super Bowl program. The prize for winners is a guaranteed opportunity to work on a future Doritos project with the award-winning entertainment trio The Lonely Island.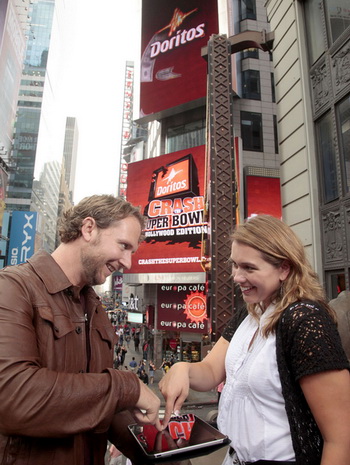 Photo: PepsiCo
The flagman of the PepsiCo's Frito-Lay division offers consumers to create homemade ads for Doritos, as it was in previous years. During the public voting the best ads will be chosen to air during The Big Game, as well as win the grand prize career opportunity. The Lonely Island will also create a Doritos ad that will air during the Super Bowl XLVI broadcast.
The first prize of $1 million will go to its creator if his or her Doritos ad scores No. 1 on the USA Today Ad Meter. But if The Lonely Island Doritos ad scores No. 1 on the USA Today Ad Meter, Doritos will donate $1 million to their charity of choice. The Super Bowl XLVI broadcast is set for Sunday, February 5, 2012, on NBC.
Consumers can enter the contest by uploading 30 commercials that share their love for Doritos tortilla chips to www.crashthesuperbowl.com from October 3 to November 21, 2011. The site provides participants with a toolbox where Doritos logos, product shots, music and animations are available for download. Five finalist ads will be announced in January 2012.
Last year JR Burningham and his fiancee/business partner Tess Ortbals won $1 million with their ad 'Pug Attack'. This year they helped to launch the contest in New York City and will join the Crash the Super Bowl team as special advisors to consumers. Consumers can ask them questions via the Doritos Twitter handle and Facebook page.
Each of the five finalists chosen by fans voting will win $25,000 and a trip to Indianapolis to attend Super Bowl XLVI in a private luxury suite at the game. Bonus prizing will be awarded, based on how each ad ranks on the USA Today Ad Meter. Created in 1989, USA Today's Ad Meter has become the most influential Super Bowl ad rating in the advertising industry. While the No. 1 spot receives $1 million, the No. 2  will take home $600,000 and the No. 3—$400,000.