Yesterday, during its f8 conference, Facebook revealed its major new features—Timeline, Apps and Gestures.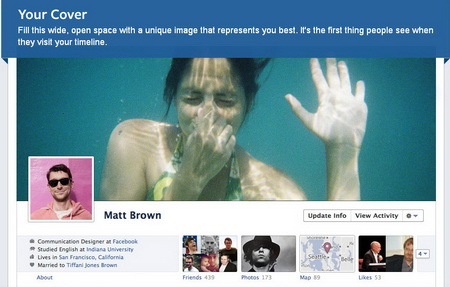 The app allows a user to feature any content—videos, photos or other updates—in reverse chronological order, creating something like an online scrapbook. So, user's entire Facebook history can be tracked. Though it doesn't apply to branded pages, users can tack applications from media companies and developers on their timelines. For example, with the Nike Plus app, users can publish the runs and distances recorded on its mobile app straight to Facebook pages, says Ad Age. Timeline launches in beta form today and available only to developers. It will roll out to users in the coming weeks.
Another feature, Gestures makes it possible not only 'Like' something on Facebook but create their own buttons using any verb. Facebook's new Apps include media-centric apps—music, movies, news, books and games—and so called lifestyle apps. The new category of applications will allow users to 'read, watch and listen' to the integrated media services, instead of just 'liking'.
All these give new opportunities for brands to advertise and interact with users of the social network giant. For instance, using the Gestures feature, brands can build their own customized buttons like 'Nike' or 'Dove'.
As far as users now can share what they are consuming (videos, news, music) through media partner applications, marketers can give them wider distribution through sponsored stories. Depending on what sort of content users are consuming, ads can be filtered and pop up accordingly.
In addition there are some more changes: posts are now as long as 5,000 characters—ten times the previous maximum length. A friend request can't be followed with a message anymore. You can create bookmarks, label favorites in the left-hand column. It's just to name a few.
Watching TV and movies, listening to music, and reading news with your friends—all this is now possible within Facebook due to its partnerships with different media companies, such as Spotify, Yahoo or Hulu.
Increased users engagement means for Facebook only one thing—adding up to its revenue, which eMarketer predicts will clear $3.8 billion from advertising this year.