Facebook announced the launch of its collaboration with National Federation of Independent Business (NFIB) and the U.S. Chamber of Commerce in a common project that is aimed to help grow American small businesses and create jobs.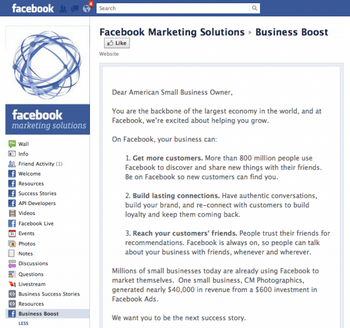 Photo: Facebook
In January 2012, Facebook will start giving businesses up to $10 million in free Facebook advertising in the form of ad credits. The goal is to provide 200,000 businesses in the U.S. with a $50 boost. Facebook that is claimed to have doubled its first-half revenue has just been upgraded to improve users' experience.
The effort will combine the knowledge and resources of Facebook, NFIB and the U.S. Chamber to provide American local businesses with webinars, collateral, case studies and tips, says Small Business Advice. Via these means business owners will learn how to improve their connection to customers and reach new customers through the use of free Facebook tools like Pages and Platform, as well as other marketing options including Ads and Sponsored Stories.
The program will also include a cross-country roadshow coordinated with state and local chambers of commerce and regional NFIB offices. During the events, experts will meet with local businesses to benefit connecting with customers on Facebook.
"Small businesses are the backbone of the American economy and we believe that Facebook can be a tremendous tool to fuel their growth and success," said Sheryl Sandberg, Facebook Chief Operating Officer.
North American small business sector employs more than half of all private sector workers and have generated more than 64% of new jobs over the past 15 years. With Facebook's 800 million active users, it's a good chance for small business owners to develop their businesses. More information is available on a dedicated page.
Google also contributes to American economy aiming to support technology entrepreneurs. According to Reuters, Google signed a lease for a seven-floor building that will serve as a launch-pad for new start-ups and developers. The centre is due to open in 2012 and will house advisers from Google and other organizations that support technology.