Within its Ford Centenary Tour, the legendary automaker hired professional sand sculptors to create a lineup of Ford cars spanning the last 100 years. The sand range was made and showcased on a Cornwall beach.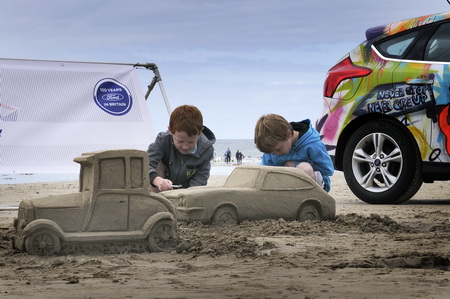 The sand-modelled exhibition of cars from the Ford Model T to the Ford Focus, at Polzeath, was the creation of sculptors Andy Moss and Jamie Wardley.
Jamie Wardley said: "One of the first sand cars I ever created was the Thunderbird FAB1 so to be asked to replicate some of the most famous cars ever made in this country was a real thrill.
"The Polzeath Beach sand is absolutely amazing to work with in terms of texture and although we aimed to have each car completed in around 40 minutes, the classic Ford Model T took quite a bit longer due to the detail involved."
The event was a pleasure for children that visited the beach and could take advantage of a free master class in sculpting from the artists.
The Ford Centenary Tour is making contact with Ford customers, employees and enthusiasts ranging from Inverness in the Scottish Highlands to Plymouth and Cornwall on the south coast. In Glasgow, the fleet of Ford vehicles was transformed into vividly colored pieces of art by six artists.
The Tour launched on August 17, when 10 Ford vehicles spanning the 100-year history of Ford in Britain assembled at Tower Bridge. They were flagged off by BBC Radio 2 presenter and car enthusiast, Chris Evans.
The Ford Centenary Tour travels around the UK underlining some of the cultural diversity in British Society and Ford's role within that. In the Scottish Highlands it searches for the best driving roads, while in the south, Ford drivers stopping for their first meal of the day are offered free breakfast rolls by Michelin-starred chef, Phil Thompson.
The tour reaches its climax on September 16, 17 and 18, when 100 iconic Ford vehicles will parade around the Goodwood race circuit on each day of the Goodwood Revival in Chichester, West Sussex.