On September 12, Galleria illy launched a new series of its art-infused events and gathered a crowd of celebrity artists in Clerkenwell. Design giants such as FLOS and Moroso also were present at the event.
The venue featuring the illy bar and a bookshop was redesigned into a white space with bright colorful stripes. So, guests could enjoy the contemporary art and live music in a proper atmosphere.
The evening was curated by the Italian artist, Michelangelo Pistoletto, whose free-form mirrored table, edged in wood and surrounded by several chairs–each based on a different culture or religion was a centerpiece of the event. Earlier this year, Pistoletto created an 'Energie Love Difference' can for illy.
Pistoletto said explaining the concept, "Coffee and art are a basic physical need. Let's join in the common desire to produce a better life for everybody."
Food cooked by Locanda's Giorgio Locatelli had a distinctly Italian flavor accompanied by wine from illy Wines and baristas from illy's Università del Caffé were also there to teach everybody the art of coffee-making.
Since its launch in New York in 2005, Galleria illy has been traveling the world blending art and quality coffee in Milan, Trieste, Berlin and Istanbul.
This time the Galleria has brought warmness and exotic of the Mediterranean and Africa to the urban London quarter. Till October 16, visitors can enjoy gilded Persian-inspired cushions and recycled outfits designed by Cameroonian artist, Alioum Moussa. The calendar of events is quite busy and includes meetings and lectures of famous designers and artists such as Marcel Wanders, Marina Abramovic, Patricia Urquiola and Paola Pivi. Entrance is open for public and free.
Galleria illy is also exhibiting its espresso cups reinterpreted by prominent artists including Anish Kapoor, Jeff Koons, Robert Rauschenberg, David Byrne and Pedro Almodóvar.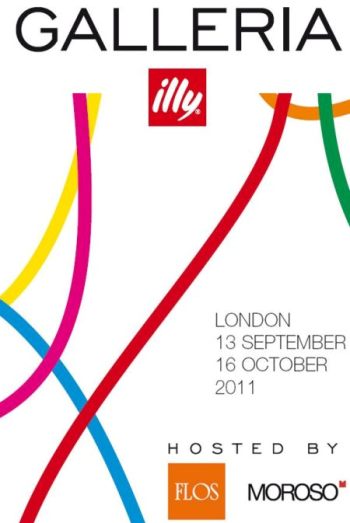 Pic.Galleria illy in London, poster