The Glacéau vitaminwater brand, known for its bold claiming which was criticized by public and banned by the advertising watchdog ASA, has now come up with a new campaign, which surely won't generate any negative buzz. The Coca-Cola Company's colorful drink has launched a new promotional project ahead of London 2012, encouraging fans to join in the creative process of developing a new flavour. The crowd-sourcing project, running on Facebook, is fronted by English signer Jessie J, the new brand ambassador and a 'Flavour Creator,' she will also help launch the consumer generated product, the ninth in the brand's line-up, shortly before the Olympic Games.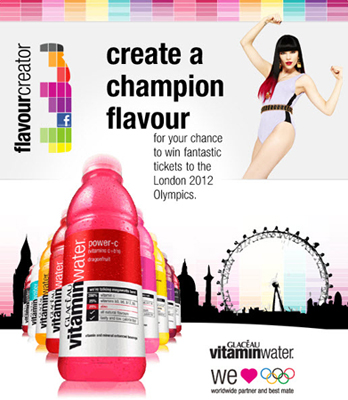 Photo: The front page of the Flavour Creator app on the www.facebook.com/vitaminwater page
The brand, which has joined Coca‑Cola and Powerade as an official partner of the London 2012 Olympic Games, is offering its consumers a chance to take part in creation of a new limited-edition vibrant drink, which will be sold in European countries, where Glacéau vitaminwater is available, for the period of the Olympic Games. The brand is inviting its fans to contribute to developing a drink, which will be available for the short period of the event, write the history of the brand at the same time and win some prizes (the competition is open only for the residents of the UK, Belgium, France and Sweden). "Just submit your selections, and if you create the most popular flavour, we'll be asking you to get creative and compose your very own label story. The wittiest words will win all the fantastic goodies up for grabs," says the brand on the contest page. This project continues the Flavour Creator campaign, started in 2009 in the USA.
"Glacéau vitaminwater is thrilled to announce Jessie J as a partner in the run up to the London 2012 Olympic Games. She is someone who really embodies the brand's sense of creativity and fun. Flavour Creator will give our consumer the chance get involved in being part of London 2012, whilst helping us celebrate this once in a lifetime experience," comments Philippa Classey, Glacéau Business Manager North West Europe and Nordics.