IBM, celebrating its 100th anniversary, opened the THINK exhibition at Lincoln Center located on Jaffe Drive in New York. The THINK explores how the world works and how to make it work better—using the latest technologies and maps. The THINK exhibit is an interactive experience that combines three ways to engage visitors in a conversation about how we can improve the way we live.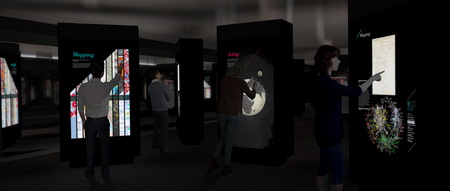 Photo: IBM
The first, is the 'Data wall' which is a digital 123-foot wall presenting the live data streaming from the systems surrounding the exhibit, from traffic on Broadway, to solar energy and air quality. Striking digital patterns provides visitors with data on the environmental changes, in real time.
The second, 'Immersive film' includes 40 seven-foot screens suspended in one media zone. So visitors can watch a 12-minute immersive film about the pattern of progress from past to present. They are also inspired to think about making the world work better here and now.
The third is an interactive experience that visitors explore after the films are finished. The 40 media panels become interactive touchscreens, transforming the space into a field of discovery—from clocks and scales to microscopes and telescopes, RFID chips and biomedical sensors to interact with.

Photo: IBM
Visitors can learn how maps have been used to track data, from early geographical maps to the most recent digital ones. Interacting with special models they also learn how such complex systems as weather prediction algorithms or virus spread simulations work. The information from leaders of world-changing initiatives and the inspiring examples of systemic progress around the world is also provided on touchsreens.
Creative minds from IBM have used the latest technologies to help people explores how progress is shaped through a common and systematic approach. Using touchpads and mapping they turned the boring digits into a digital art piece as the whole exhibit—sparkling with lights and vibrant colors—seems to be a contemporary art platform, from the first sight.
IBM has been working on the improvement of the urban life for hundred years now. It provides organizations with funds to help develop innovative energy and healthcare projects worldwide. It also works on the Smarter Building project to make significant changes in the cities life.
The popular initiative, THINK, which will be open till October 23, is aimed to attract attention of common people and to make them aware of modern technologies impact on the society and environment. As IBM believes that "It takes teamwork and technology to manage complexity. Acting is never over, because our systems are alive".