Men are like kids—this notion, well-known to all women, underlies the new initiative, launched by IKEA in Australia, following the release of the Have a Gö marketing initiative in the country. For this year's Father's Day weekend, the non-public holiday celebrated in Australia on first Sunday of September, the international furniture retailer created one-of-a-kind recreational space for men who come to the company's Sydney store with their girl-friends or wives.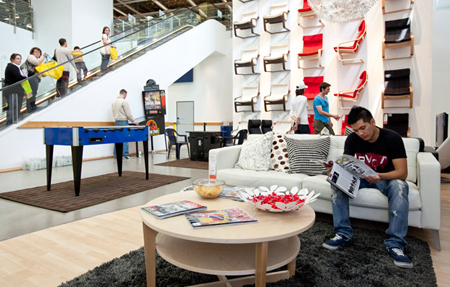 Photo: www.news.com.au, IKEA MÄNLAND area
«Despite most men dreading a trip to the shops, we still attract a high proportion of male customers. So we're expecting the scheme to be a real success with both sexes," commented IKEA Publicity manager Jude Leon. The MÄNLAND zone looks like the SMALAND toddler-care area for kids who come to the shopping centers with their moms, but it is packed with things for men—Xbox consoles, pinball machines, sport TV channels, free hot dogs, cozy sofas and other things to get male entertained while their female partners are choosing another chair, lamp-stand or cushion.
The unique space was open for four days, September 1-4, and allowed both of the partners feel great visiting IKEA store—men were hanging out and having fun doing male stuff (everything was completely decent), while female shoppers were given a half an hour to choose what they would like to buy this time (in 30 minutes they got a buzz which reminded them to come and collect their man). Earlier this year, IKEA launched a battle of sexes related campaign in the UK, trying to figure out who are messier, men or women.