The first and the only tool for creating and analysing consumer brand profiles — available online!
Popsop.com, bilingual world read brand media, today announces the release of BrandMask (www.brandmask.com), a website and application built on Facebook platform allowing users to better and more effectively interact with their favourite brands and other fans. For now, Brandmask is available in a test mode in English to Facebook users in all destinations and expected to be geo-targeted and customised to other languages soon.
BrandMask is the first specialised app for fashionistas, brand addicts and simply those fans who are looking to interact with the brands they like in a more efficient and personal manner by receiving discounts and promotions sent by local representatives of the brand (promoters, distributors, resellers, e-commerce websites etc) in their city.
After confirming that you allow BrandMask to connect to your Facebook account, you are offered to choose up to 3 brands you like in several categories, such as Food and Drinks, Cars, Clothing and Footwear etc. When your brand profile is filled out, you get a visual map of your brand 'likes', which can be viewed, followed or rated by other Brandmask users. The brands you like are to send you specials, discounts and promotions available specifically in your city.
Being a perfect interactive web-based tool connecting fans with brands directly, BrandMask performs additional social engagement features to better connect and entertain the users who are fans of the same brands. Thus, BrandMask allows you to see who visited your profile, who follows you, who makes your perfect brand 'likes' match, rate your friends and other users upon their brand 'likes' (choices) and be rated by others.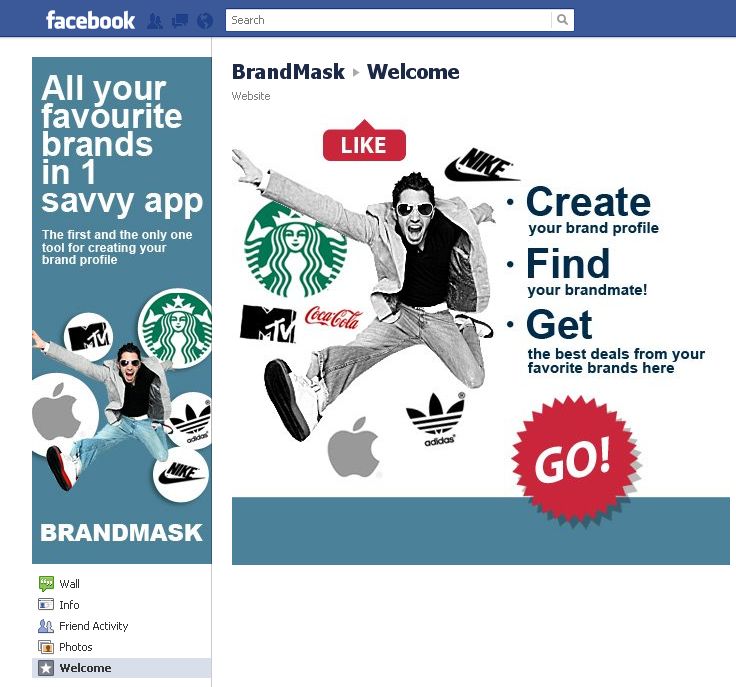 Pic. BrandMask welcome page on Facebook
Alex Baranov, the author and visionary of BrandMask project, says "According to Facebook, there are more than 750 million active users on Facebook, 50% of which log on to their accounts every day. All these people like and buy some brands, follow their fan pages on Facebook, however, only 17% of them, as the latest study, conducted by Constant Contact and research firm Chadwick Martin Bailey, shows, interact with brands by sharing experiences and news stories with others about the brand, and only 13% of them post updates about brands that they like. While 57% follow the brand because they want to receive discounts and promotions. So, we came up with a brilliant and simple idea to create a smart tool which would provide brand fans with what most of them want in the best possible way (i.e. enable brands to send to loyal active fans some targeted specials —directly, specifically to their location) and, on the other hand, re-work the part that needed a revision and motivate people to share their experiences about brands with other fans and their friends".
Ekaterina Belan, Popsop editor and BrandMask partner, says "What makes Brandmask truly useful and different from 'discount selling' services such and Groupon and its counterparts, BrandMask is not about selling and promoting stuff, it's about connecting people with some shared brand interests and likes with each other. So, people communicate with their friends as well as find new ones the same way they do it on Facebook, but brands and their attitude to these brands are at the heart of this social interaction.
For advertisers and marketers (brand owners, their distributors, authorised dealers etc in local areas) BrandMask provides a unique opportunity not only to better interact with loyal fans, but to research, analyse and measure their target audience and their 'complex brand choices' in order to plan relevant and effective marketing strategies and, therefore, boost their businesses".
BrandMask is a web-based social interactive tool built on Facebook Platform available at www.brandmask.com, copyright registered with the U.S. Copyright Office and the European Patent Office as of 3 August, 2011.
For more information, general enquiries and partnership proposals, please contact Ekaterina Belan at media@popsop.com or call at +44 (0)20 7193 0876.