Toyota rolled out a new ad campaign to promote its new Yaris model. A series of partially animated adverts was directed by Jones and Francois, who also created videos for Madonna and Justin Timberlake.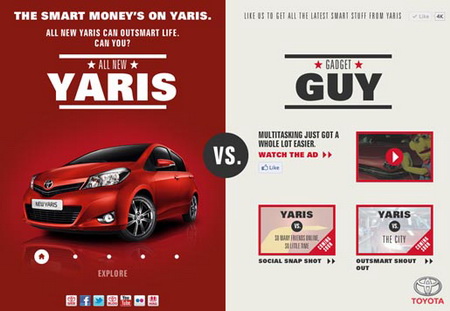 Developed by Saatchi & Saatchi, the campaign targets young audience, using the rap aesthetics in 40-second ads. Each advert feature stories about the attributes of the car: driving agility, its intuitive touch-screen multimedia system, and its rear-view camera, says The Drum.
A song titled 'But, Can You Do This?' was exclusively produced for the campaign with the tagline 'The smart money's on Yaris'.
Lisa Fielden, brand and digital marketing manager at Toyota, said: "The pop-video style ads are a fantastic way to engage our target audience with the smart features of the Yaris, which genuinely help Yaris drivers outsmart daily driving challenges.
"The light-hearted and dynamic approach is designed to reach out to a fresh audience for the Yaris, showcasing the pioneering, clever and creative features of the Yaris in a dynamic new light."
The campaign also uses social media and encourages audience to "get straight to the essential status updates, invites and photos with our super smart social snapshot", as said on the Yaris site and on Facebook.
The first video features a Yaris driver trying to fit into a tiny parking space but a 4×4 monster truck has the same idea. Animated street dancers show up, rapping the 'But, Can You Do This?' urban tune, as the Yaris driver demonstrates one of its smart standard features–the rear-view camera that allows it to effortlessly park the car.
The second advert 'Gadget Guy', features an animated guy who is rapping on Toyota's new Touch & Go System which allows passengers to Google search for the nearest restaurant, find the nearest empty parking space etc and the advanced Bluetooth connectivity.
The third video is yet to be released and will highlight the 'Toyota Touch & Go' multimedia system.
Toyota is also to develop new hybrids in collaboration with Ford.