In May Volkswagen launched a new ad campaign in China. 'The People's Car Project' invited people on the street to submit their ideas of what would make the ultimate new people's car.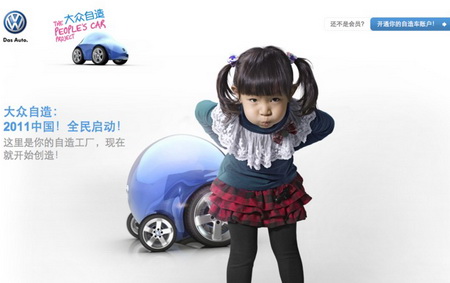 Photo: www.insideline.com
The significant part of the interactive campaign was created by German filmmakers and design studio weareflink. Working with Contra Productions China and Georg Warga of Goodstein & Partners/Proxmity, Beijining they have created an award-winning integrated campaign using a mixture of live action and animation.
Presented across websites, print, TV and even toys and stickers, the campaign won as the 'Most Valuable PR Communications Campaign 2011' at the Media China Branding & Marketing Awards, which is like the Oscar of brand communication in China, says Scary Ideas. In addition, the campaign was shortlisted five times in four different categories at the Spikes Asia where it won a silver award for best integrated campaign and a bronze award for visual effects.
weareflink said: "The idea of taking the word Volkswagen literal made us 'jump' immediately onto this project. Being involved in an integrated campaign of such scope and working as closely with top creative Georg Warga on all aspects made this so special".