Volvo presented its new Concept You car at the 2011 Frankfurt Motor Show yesterday. The Concept You follows its forerunner Concept Universe and blends contemporary Scandinavian design with intuitive smart pad technology. All this demonstrates how the future Volvo cars will look like—like an intuitive car.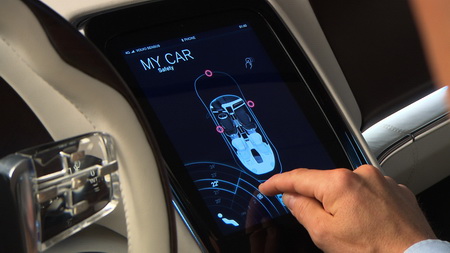 The technology inside of the car consists of a number of touch screens that are used to replace buttons and controls in order to make the driver totally connected while enjoying a modern interior that features a wood/leather steering wheel and glass paddles with integrated touch screens.
The control centre in Concept You consists of four main areas: a digital Driver Information Monitor, a head-up display on the windscreen, a touch screen on the upper part of the centre console and a touch screen between the two individual rear seats.
The touch screen in the upper part of the centre console remains in sleeping mode until the driver looks at it—a hidden infrared camera registers the eye movements and information is displayed on the screen. Another sensor registers hand movements and triggers the infotainment system's control mode. The possibilities are different depending on if the screen is approached by the driver or by the front seat passenger.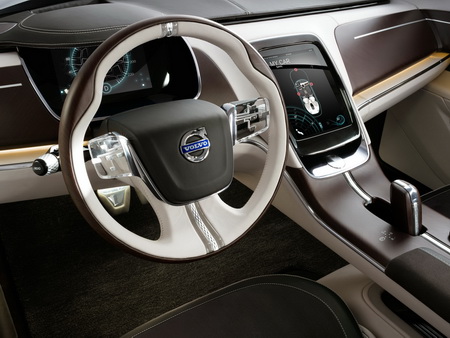 "Certain functions, such as surfing the web, are only accessible from the passenger side while the car is rolling. The technology knows who is the present operator and adapts itself automatically," says Peter Horbury, Vice President Design at Volvo Car Corporation.
Volvo's largest and most luxurious sedan ever, Concept You offers luxury interior with hand tufted wool carpets from Kasthall covering the wooden floor. The interior fades from dark in the front to light in the rear. The front texture has a sporty firmness, while the rear part of the carpet is soft.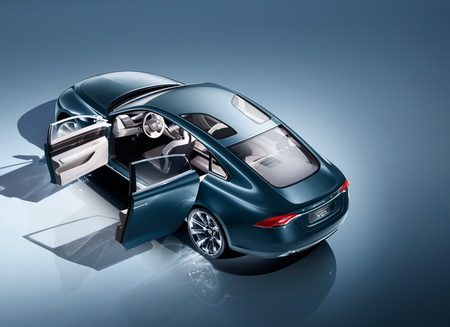 The four individual seats are made with blend chrome-free leather from Bridge of Wear with Dinamica ecological suede. The back of  the front seats and the door panels feature exclusive Italian fabric and designs from the Swedish fashion house Oscar Jacobson. Concept You has 21-inch polished aluminium wheels with tyres from Pirelli.
"The design of the wheels, the grille and details in the innovative headlamps has been inspired by the exquisite works of the world-famous Danish design house Georg Jensen. Their precious items capture the essence of Scandinavian design. Uncluttered, organic surfaces and superb craftsmanship that radiate timeless luxury. This design should feel handcrafted and durable enough to stand the test of time," says Peter Horbury.