Vogue launches the 2011 Fashion's Night Out tomorrow. The international event will take place in 17 countries worldwide.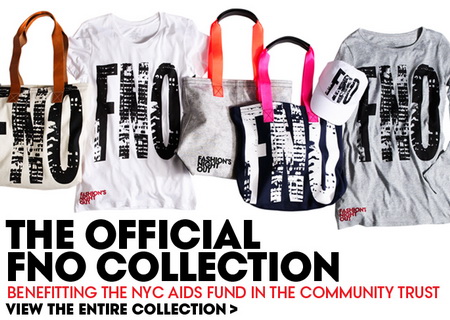 The initiative was found by Vogue editor-in-chief Anna Wintour in collaboration with the Council of Fashion Designers of America, NYC & Company, and the City of New York. She launched the FNO in New York City in 2009 for the first time inviting stores to hold events while fashionistas started shopping again after with the Great Recession period, says Azcentral.
«People were feeling almost guilty to go out to stores, and this wreaked havoc on retail and had a domino effect all the way from the driver who delivers fabric to the sales people,» said Susan Portnoy, a New York spokeswoman for Fashion's Night Out. «The event was a way to jumpstart enthusiasm in fashion, and support retail in your own economy.»
The audience highly appreciated the event and it quickly spread to more than 250 cities worldwide. So, on September 8, participating stores are open to plan any type of event they want, from offering complimentary drinks to bringing in a DJ and celebrities, while people go shopping and enjoying parties. The events start at 6 pm and end at 11 pm.
For example, in Scottsdale, Gucci will serve prosecco and Italian specialty cocktails to shoppers. Comme de Garçons NYC will present visitors with a special surprise gift, Stephen Jones will make an appearance at their newly renovated 22 street location. A selection of his archival hats will be on display, and several styles will be available for purchase. All customers who spend $750 or more will receive a free 888 150mg candle.
Lists of other participating stores in the USA, UK, Australia, Russia, Taiwan, Italy, France, Brazil, China, Germany, Greece, India, Japan, Mexico, Turkey, Spain and South Corea are available online.
There is also a Fashion's Night Out clothing collection sold in select stores and online, and a portion of the proceeds will go to NYC AIDS Fund.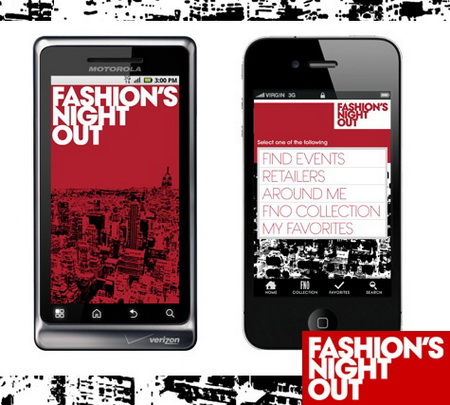 New York shoppers can download a special Fashion's Night Out Mobile App for a free.  It's a complete guide of the biggest shopping night of the year and available for Android and iPhone.
This FNO in New Your will also feature Lenovo Connections Lounge at Saks Fifth Avenue where shopper can update Facebook status with your latest purchase, Tweet their latest celebrity sighting or Tumble an FNO moment on one of the many laptops at the blogger lounge. Lenovo will also be giving away a brand-new IdeaPad U300s laptop.
In addition, the all new Volkswagen Passat will ride officially within the FNO event.
In London, such haute couture and prêt-a-porter brands as Vivienne Westwood, Salvatore Ferragamo, Prada and many others will have special events as well.
Those who will not be able to visit the events can shop online at the participating e-tailers, such as Shopbop.