To appeal to different categories of consumers effectively, some brands use different promotional concepts for similar products, tailoring the positioning to the tastes of target audience. The iconic carbonated drink Dr Pepper has finally launched its Dr Pepper Ten, a 10-calorie soft drink, which has been testing on the U.S. market since early year, across the country. Basically, the new product is another version of the brand's diet drink (though, with its calories and sugar it differs from Diet Dr Pepper, 10/2 in Dr Pepper 10 vs. 0/0 in Diet), but its low calorie background was not highlighted here since, as researches state, male shoppers don't think that diet products are 'manly' enough.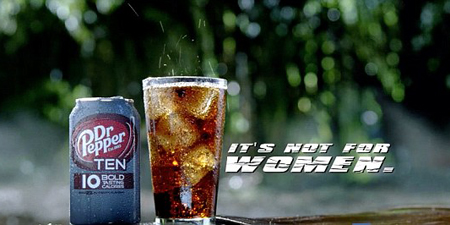 Photo: A snapshot from the Dr Pepper Ten advert, Associated Press
To support the launch, Dr Pepper is rolling out a new campaign under the tagline 'It's not for women.' The new product is stepping into the area, which already has strong players like Coke Zero and Pepsi Max, but the brand is going to win its share of the market thanks to the bold positioning, developed with men in mind, not conveying even a hint of femininity. The campaign and packaging are created in the style, which, without any doubt, appeals to men only—ladies are not likely to be attracted by gunmetal grey packaging with silver bullets or military style 30-second advert featuring a muscular man in jungle fighting with baddies and snakes and pouring soda into a glass while riding in an ATV car. "Hey ladies. Enjoying the film? Of course not. Because this is our movie and this is our soda. You can keep the romantic comedies and lady drinks. We're good," says the protagonist, and this once again emphasizes that the drink is created just for guys.
As part of the promotion revolving around on testosterone-soaked machismo theme, Dr Pepper has launched a Facebook  app dedicated to man, which cannot be accessed form a woman's profile—according to Associated Press, the page "contains an application that allows it to exclude women from viewing content, which includes games and videos aimed at being 'manly.' For instance, there's a shooting gallery where you shoot things like high heels and lipstick, for example. There is also a 'man quiz' with questions on activities like fishing and hunting."

Photo: A bottle of Dr Pepper Ten, Associated Press
"Regular sugared soft drinks have declined in recent years, and some consumers have taste issues with some of the diet sodas," commented John Sicher, editor and publisher of Beverage Digest. And while more and more consumers prefer juice and bottled water instead of bubbled drinks, Dr Pepper decided to take a risk, offering the Dr Pepper Ten, which 10 calories and 2 grams of sugar (instead of 100 calories and 27 grams of sugar per regular can of the brand's drink), with all the 23 flavours of traditional line. The campaign, which may be criticized by anti-sexist movement activists, is still just a lighthearted joke and in no way is aiming at offending female consumers. It's just another step to satisfy all consumers groups—while women mostly prefer zero calories options, men are not obsessed with driving sugar out of their drinks, but still want healthier products.