Seattle-based brand design firm Hornall Anderson announced that its United Kingdom partner agency, The Core, has become Hornall Anderson U.K. and will operate as its full service European-base.
The Core was acquired in November 2010 by Hornall Anderson's parent company, Omnicom Group Inc. This was a strategic move to build on the competencies of two well-established companies. Aligning the two offices accelerated their ability to serve a growing list of international clients and their global needs.
"This merger is truly the culmination of two firms that share a common philosophy, vision and commitment to deliver break through ideas; ideas that create impactful experiences," said Jack Anderson, Hornall Anderson's CEO. "We believe the U.K. team brings agility and nimbleness that complements our existing rapid prototyping philosophy, while also providing a European sensibility and perspective that will help us continue to deliver exceptional, globally relevant work."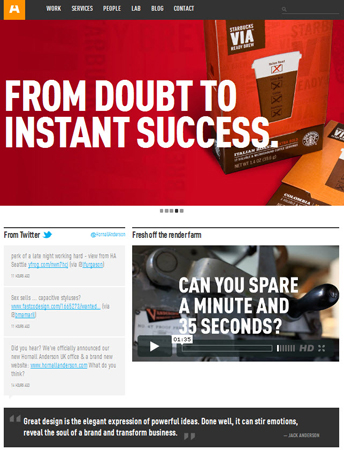 Photo: A snapshot from Hornall Anderson website
Hornall Anderson, a 29-year-old firm, specializes in actionable design solutions that create memorable and authentic branded experiences. Market pressure and fragmented communication channels have made it increasingly difficult for brands to expand and enhance their consumer experiences. Hornall Anderson provides a 360-degree approach that includes print, digital, packaged goods, built and virtual environments.
Hornall Anderson's U.K. office will continue to be led by Founder and Creative Director Alastair Whiteley and Managing Director Nick Green. The UK office client roster includes such brands as Unilever, ASDA (a Walmart—
owned supermarket chain), Pernod Ricard, L'Oreal and Virgin Atlantic, among others.
"We are thrilled to become an official part of Hornall Anderson," said Whiteley. "Since becoming a part of the Omnicom family last year and working so closely with the Hornall Anderson team, it has reaffirmed just how similar our approach is to strategically-driven design. Coupled with our strong desire to deliver innovative brand experiences, it makes complete sense to combine the two offices and take on the Hornall Anderson
name."
"The blending of these two firms will afford our clients strategic design solutions that will maximize their business potential and viability," added Green. "This partnership enables us to think, engage and immerse our
employees globally so we can provide our clients with the highest level of expertise and service possible."
In conjunction with the announcement, Hornall Anderson has designed a new web site that reflects the company's direction and global presence and showcases the culture, synergy and combined thought leadership of the two offices.