Coca-Cola (#1) takes the lead in Interbrand's 2011 Best Global Brands report for the 12th consecutive year. Another brand leader is Apple (#8). With a brand value that increased a staggering 58 percent, Apple is this year's top riser and, for the first time, it sits amongst the top 10 brands listed in Interbrand's report (see the full list of brands below).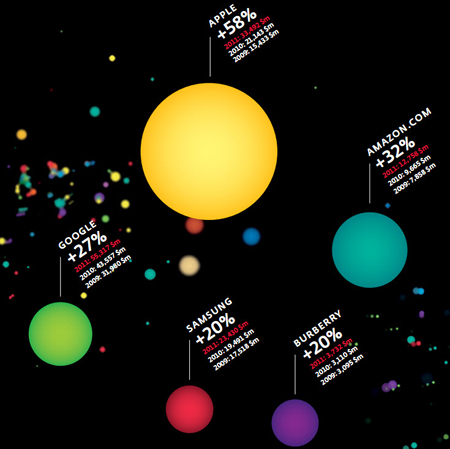 Photo: Top risers in the Best Global Brands 2011
Interbrand, a leading brand consultancy, produces its Best Global Brands report based on a unique methodology. The methodology analyzes three key aspects that contribute to a brand's value:
—The financial performance of the branded products or services
—The role of brand in the purchase decision process
—The strength of the brand to continue to secure earnings for a company
Due to the volatile markets and uncertain business climate that characterized 2011, brands are in the midst of adapting to a new reality. "Uncertainty is the new status quo, so today's brands need to be quick and nimble," remarked Jez Frampton, Interbrand's Global Chief Executive Officer. "Consistency, relevance and commitment are imperative if a brand is to keep pace in our rapidly changing world. By refining digital strategies and strengthening social networks, today's most valuable brands are creating more relevant customer engagements. These brands have seized opportunities to host richer, more tailored experiences, which, in turn, help drive longer-term loyalty and value among consumers and partners alike."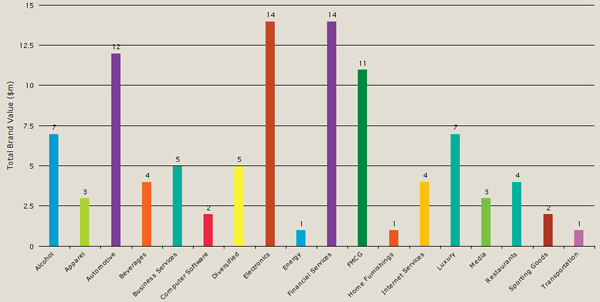 Photo: Best Global Brands 2011, brands by sector, Click to enlarge
This past year, technology brands continued to show sector-wide growth. Seven of the top 10 brands (IBM, Microsoft, Google, GE, Intel, Apple and Hewlett-Packard), four of the five biggest risers (Apple, Amazon.com, Google and Samsung) and the one of the few new entrants to the Best Global Brands report (HTC, the mobile device maker in Taiwan) all hail from within the tech sector.
The past year was marked by remarkable growth in the auto industry, driven primarily by an economic recovery in classic European markets, a resurgence of the US automotive industry and high demand for cars in China. Toyota (#11) retains its position as the #1 automotive brand in Interbrand's 2011 report.
All luxury brands appearing in Interbrand's report were able to increase their respective brand values by striking a delicate balance in 2011: They each leveraged their iconic status and simultaneously engaged new consumers in unique and relevant experiences. Corporations such as Louis Vuitton (#18), Gucci (#39), Hermès (#66), Cartier (#70), Tiffany (#73), Armani (#93) and Burberry (#95) all saw their respective brand values increase this year—a tremendous business achievement considering the world's tumultuous economic conditions.
Following the 2008 financial crisis, certain financial brands continue to struggle—particularly those financial brands based in the US. Legacy banking brands Goldman Sachs (#38), Citi (#42) and Morgan Stanley (#54) saw slight declines in brand value in Interbrand's 2011 report. Certain European-based financial institutions, however, saw brand values climb five percent or more within the past year.