Continuing its global 'Go Forth' promotional initiative, Levi's has teamed up with Spotify, rock band Primal Scream and Clash magazine to kick off a follow-up of the campaign dubbed Craft of Music, which is dedicated to supporting music talents in the UK. The new 'co-creation music' project allows fans to manage the gigs by choosing the artists which will perform at upcoming major concert of the campaign as well as songs, which will be included in the set.


Photo: A snapshot from the Levi's Craft Music website
In the dedicated section of the official Levi's website, users can see the six bands which will come on stage during one of three in-store concerts hosted by the brand on and 27 at Levi's flagship Regent Street store in London on October 25, 26 and 27. Users are offered an opportunity to choose two of them for the ultimate gig at Electric in Brixton—they will support Primal Scream at the main event on November 10. Fans are also invited to select two of three songs, which will be 'recreated' by Primal Screem at the gig, and vote for 10 songs to be performed by the band on the night.
"We are thrilled to launch this pioneering music campaign that offers consumers such a unique opportunity to craft a major music event. Our global brand campaign, Go Forth is a rally cry to create positive change and celebrates today's pioneers and this campaign is a way of reiterating and celebrating this," commented Tim Larcome, general manager of Levi's UK. The previous music-related projects by Levi's include its collaboration with The Fader and Levi's Pioneer Sessions. Levi's Craft of Music
The campaign, supported by the media agency OMD, is running across Spotify and Clash Music channels, where fans will be able to watch interviews with musicians as well as videos from the events. Those, who want to be there in person, are invited to take part in the voting—all of those who cast their vote are entered into a competition to win tickets to the gigs.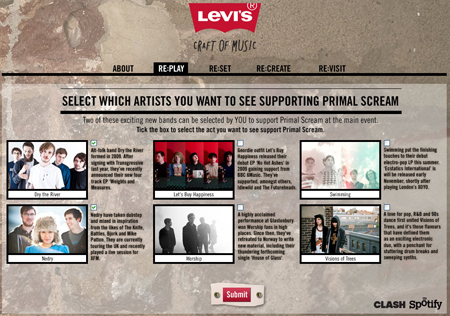 Photo: A snapshot from the Levi's Craft Music website