Even simple things around us can be artistic and hide secrets that prove to be truly amazing and astonishing. What can be more trivial than a hair? But as it turns out, there are a plethora of fascinating and mysterious facts about it, and L'Oréal has come up to reveal all the truths behind hair. The cosmetic giant cooperated with the Palais de la Découverte in Paris to open an exhibition 'Le Cheveu, de mèche avec la science' (Hair in league with science), which will be running from October 14, 2011 through August 26, 2012.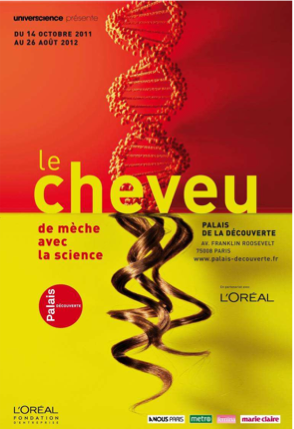 Photo: The poster of the'Le Cheveu, de mèche avec la science' exhibition
The exhibition, which is presented in three languages (French, English, Spanish) and in Braille, is exploring the world of hair—short, long, straight, curly, dyed, natural,—delivering a unique insight into everything related to this biological phenomenon. The exhibition was developed by L'Oréal researchers and the team at Universcience, and so primarily it focuses on the scientific point, but aesthetics is not left out as well. The interactive and educative exhibition is offering "an opportunity to enter into the skin of a scientist and to observe your hair under the microscope," states the press release.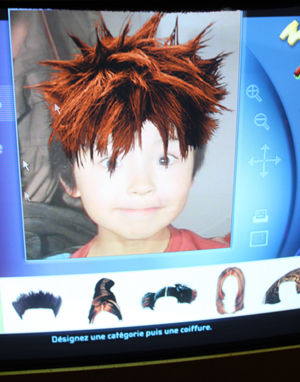 Photo: www.sortiraparis.com, The 'Le Cheveu, de mèche avec la science' exhibition
At the exhibition, visitors will find scientific pieces such as fantastic images taken through special microscopes and eccentric wigs by Charlie Le Mindu, the most fashionable hairdresser who collaborated with Lady Gaga, Ayumi Hamasaki or Mylène Farmer. The exhibition will answer the questions including "Why blonde hair darkens with age?", "How many hair do we have?", "Why does hear become greasy?", and "Why does it fall out after chemo?" to name but a few. Visitors are also able to choose, which hair-style—Japanese or punk or some other—suits them better, try it digitally and print the photo with the best haircut, and then learn new word expressions revolving around the major theme of the exhibit, view photos from various beauty salons around the globe and learn a lot of other amazing things about our hair.
Starting October 20, the exhibition will be available online as well.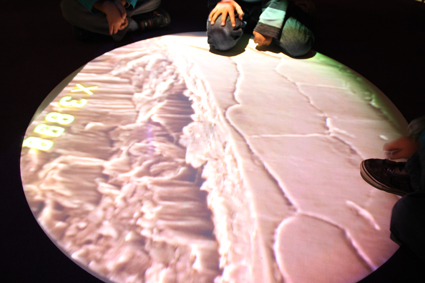 Photo: www.sortiraparis.com, The 'Le Cheveu, de mèche avec la science' exhibition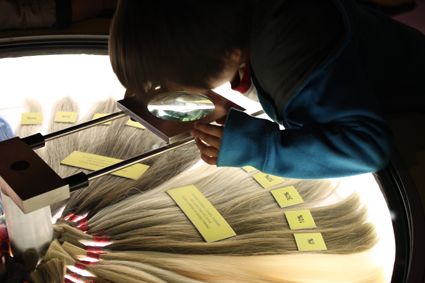 Photo: www.sortiraparis.com, The 'Le Cheveu, de mèche avec la science' exhibition