Live your life to the fullest, live your life fast. According to the Maya predictions, the world will come to the end in 2012 and we have just one year to experience all the outrageous things that are not on the list of things we usually do. Lynx (AXE) has launched a campaign, developed Droga5 and dubbed Lynx Fast Life in Australia to inspire people across the country and on other continents as well to take a risk and try something new in your life—at least, digitally.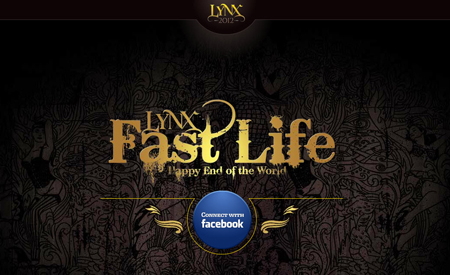 Photo: A snapshot from the Lynx Fast Life website
Lynx is inviting its fans to experience life they never had in a film, where personal information of one's Facebook profile is used—name, photos and friends' avatars—to create moments which make up real life. In the spot, a user sees his or her 'possible life' full of awesome episodes like getting a kick from a pantomime horse, being kissed and by girl, being extremely popular and going poor, having and loosing friends, getting in jail and being killed by a car to name a few. Even if Lynx fans don't manage to have it all in their life until the world ends, the brand provides them with a chance to feel like they have already had all of it.
The agency was challenged with a task to "write thousands of scripts, then shoot them all in three days," but no matter how tough it was, they managed to get everything done, creating vivid video album of a guy's personal achievements (unfortunately, the video is only for guys, since even if you access through a female profile, you still get hot girls, not boys in the spot). The 'fast life' is lived to The Grenadiers track 'No One Listens,' which adds even more passion and energy to the spot.
"Lynx Fast Life has been a huge collaborative effort with Visual Jazz developing the microsite and technical elements, and Pulse Films in London shooting all the AV content. It was a massive task, with more than 130 separate shots done over 3 extreme days of shooting, ensuring that no two Fast Lives will ever be the same,» commented Duncan Marshall, executive creative director at Droga5.
The campaign is created to promote the Lynx 2012 The Final Edition antiperspirant and follows the 'Happy end of the world' advert, launched in September, in which a young guy collects girls on a wooden ark to survive in the cataclysms which will lead to the end of the world in 2012 (a modern rendition of "two of every sort [of animal]…male and female").