Newsweek has published its 2011 Green Rankings revealing the greenest companies in the United States and the world. To collect the data on company's environmental footprint, Newsweek partnered with Trucost and Sustainalytics.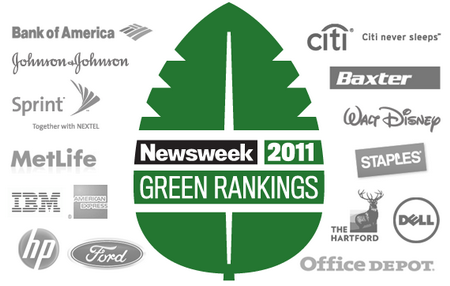 Photo: Newsweek
Due to the analytics method, companies on each list—the U.S. 500 and the Global 500—were ranked by their overall Green Score. This score was derived from three component scores: an Environmental Impact Score, an Environmental Management Score, and an Environmental Disclosure Score; weighted at 45 percent, 45 percent, and 10 percent, respectively.
The greenest company on the American list turned out to be IBM with an overall score of 82.5. The technology giant has a 40-year history of progressive environmental policies. Other six tech companies that feature the national list and were recognized as environmental stewards are Hewlett-Packard (No.2), Dell (No.5), Accenture (No.7), CA Technologies (No.9) and Nvidia (No.10).
Only three tech companies made the global top 10 list: IBM (No.2), and India-based Tata Consultancy Services (No.7) and Infosys (No. 8).
While the Germany-based financial firm Munich Re was named the greenest company in the world in the Global Green Rankings 2011 list with a green score of 83.6, IBM scored number two (82.5) and National Australia Bank was placed No.3 with a score of 82.2.
Five of the top 25 companies are based in the United States: IBM, Hewlett-Packard (No.15), Sprint Nextel (No.16), Baxter (No.24) and Dell (No. 25). "The Newsweek rankings suggest that the U.S. is trailing other parts of the world in the sustainability arena," explains the Newsweek review. Newsweek also commented that strong environmental regulations in Europe were one possible cause for this lack.
European and Asian brands that feature in the Top 25 Global list include Philips (No.9), Fujitsu (No.13), Nokia (No.21), Samsung (No.22).
Published annually since 2009, The Newsweek Green Rankings is the first effort by a major media organization to rank companies based on their actual environmental footprint, its management and sustainability communications.