Patagonia, a California-based apparel company, rolled out a new outdoor company, which is calling on consumers to repair or resell their Patagonia clothes. The initiative within the Common Threads project is focused on reselling Patagonia clothing that people don't wear anymore on eBay. Though it sounds paradoxical, there's a smart idea behind this sustainable and eco-friendly as well as marketing move.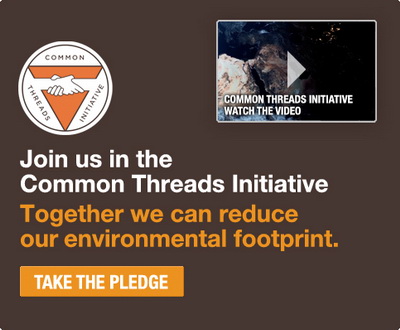 Photo: www.patagonia.com
Within the initiative that was launched at New York fashion week last month, Patagonia is asking their customers to reduce, repair, reuse, and recycle their clothing and equipment in order to help the planet. Their ad features a tagline 'Reimagine a sustainable world' and the company even consumers to repair its clothes on a 10-day turnaround for a reasonable fee as well as help them sell used clothes via an eBay channel or at their web site.
«We realized that what was really needed was a mutual responsibility between company and customer for the full lifecycle of stuff,» Rick Ridgeway, Patagonia's environment VP. «So we would try to reduce the amount of stuff that people buy, fixing products if they were broken, and asking people to clean out their garages and closets, so that if you have clothes you are no longer using, you put them back into circulation.»
Global brands are launching sustainability initiatives worldwide. For example, PUMA cares of oceans in its marine preservation campaign, H&M emphasizes the usage of eco-friendly materials in its new collections and Philips is currently exhibiting its Microbial Home.
According to Fast Company, some experts say that the initiative as an inspired piece of marketing that would enhance customer loyalty and reinforce the message that Patagonia apparel is long-lasting and worth holding on to. The company claims the project's goal is still to raise awareness of the planetary crisis and "to wake up people and challenge other businesses too" says Ridgeway.
Patagonia states it will not profit from the campaign: it is not getting a percentage from eBay sales, or making money on its repair service. The company wants to shatter the marketers opinion that it's only a a clever marketing ploy and give more to environmental groups.
Patagonia's sales reached $400 million in 2010, and likely to grow by 25% this year. In an interview to the WSJ, Yvon Chouinard, Patagonia's founder and owner said that being a private company, Patagonia is uniquely situated to experiment and that "he's in business for different reasons, because he'd already made all the money he could possibly need."
The company also sells music to benefit the environmental organizations.