Blue Marlin's two very different projects have been recognised by the renowned Design Business Association Design Effectiveness Awards, which is the only award scheme in the world to evaluate design projects based on hard commercial data. The DBA will reveal what level of award has been won—bronze, silver or gold—at a ceremony in London in February.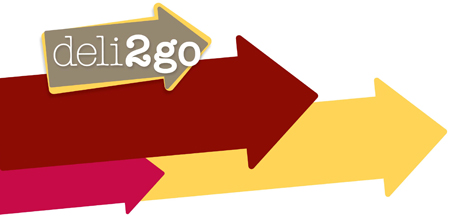 Photo: Deli2go's visual identity
Blue Marlin has picked an award for overhauling Shell's forecourt food and drink offer, Deli2go, which involved everything from brand proposition and naming to packaging, retail environments and website design. The independent brand design agency has also won an award for its stunningly successful work for entrepreneurial brand Funkin Mixers, which gained £1m in sales in a year off the back of new look packaging.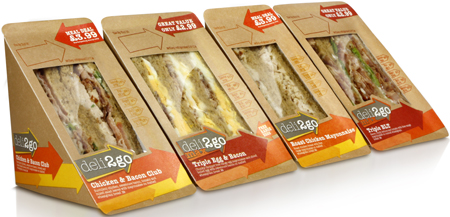 Photo: Deli2go's sandwich packaging
Global CEO Andrew Eyles comments, "We are well known for 2D and 3D packaging, but we work across the entire spectrum of brand topuchpoints and everything we do dovetails with what our clients' brands seek to achieve. These awards reflect our ability to take a brand from conception to launch to driving growth through design integrity management. And they are a great endorsement of the importance we place on the genuine integration of strategy, creativity, realisation across all design disciplines."
Formerly Shell's own brand food and drink, Deli2go launched in the teeth of recession in a depressed sector, but turned in a performance so successful that it left the competition standing and exceeded even Shell's most ambitious targets. The brand has been so successful it is being rolled out internationally and has already been launched in Canada. "We wanted to change people's perceptions of garage food and drink and make Shell's offer a positive choice that drivers would go that extra mile for. Our work achieved that in style and the sales figures speak for themselves," Eyles remarks.
Photo: Funkin Mixers line-up
Funkin Mixers is a young brand based on a great idea: the perfect cocktail in ten seconds flat—just add spirit and stir. With the help of the striking graphics and effective outer pack design created by
Blue Marlin, its sales increased by 61 per cent in a year and made distribution gains in multiple grocers, off licences, pubs, clubs, hotels, airlines and wholesalers that transformed its fortunes.
Funkin CEO Andrew King says, "Investing in design was a big commitment for a company like ours and we are delighted that we have seen such excellent sales results and delivered a strong return on investment. We had no idea that it would pay for itself 31 times over in the first year. It's probably the best money we've spent."