Starbucks expands its longtime partnership with Apple by launching a free music and book download service for the UK customers. Now the chain's customers have an opportunity to select one music track or one iBook to download from iTunes through its 'Pick of the Week' initiative.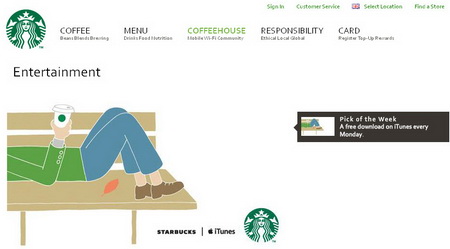 Photo: a snapshot from starbucks.co.uk
Starting October 17, each customer who buys a coffee or something else at Starbucks, receives an iTunes card which allows them to download the content within a 60 days period. The first free track will be James Morrison's 'In My Dreams'. Other artists will include Coldplay, Tony Bennett, Norah Jones, and The Kooks. The first iBook is Limitless by Alan Glynn and David Peace's Damned United will follow.
The launch follows the introduction of Starbucks' 'one-click' Wi-Fi service last week, which allows customers to access the internet in stores without registering. A press ad campaign will promote 'Pick of the Week' and is to be supported in-store.
Brian Waring, vice president of marketing and category for Starbucks UK and Ireland says: "With the Pick of the Week programme, Starbucks and Apple are two iconic brands coming together in the UK to make Mondays a little brighter by offering our customers great content. Launching easy-access free Wi-Fi and giving free downloads are just some of the ways that are giving customers more value."
Starbuck's has been running Pick of the Week in the US since 2006 and that time also launched its Starbucks Hear Music catalog on the iTunes. In August Starbucks rolled out its music-identifying Shazam Encore app and introduced its iPhone app in July.