Defining which global brands are better at the current moment, which of them has shown striking results in the tough economic conditions of the recent year is a challenging task. For the 12th consecutive year, Interbrand, the world's leading brand consultancy, undertakes profound research, building the Top100 Global Brands 2011 list by taking several criteria such as presence on the global market and financial performance of the brand into consideration.
All this is to provide marketers with an insight into what the global brands have been doing to achieve success in the past 12 months. This year's #1 ranked brand is Coca-Cola, which has shown 2% change in brand value and got on the top position for its compound prolific strategy, which builds on both delivering better products (here, innovative packaging has played a vital role), and building strong ties with consumers. IBM (#2), Google (#4), Toyota (#11) and Apple (#8) has also demonstrated huge rise in their development, scooping the top positions on the list.
But what's the use of such ratings, if the approaches which brought each of the brands to success remained undisclosed? Interbrand has provided a study, revealing what strategies were used by the brands and which trends are now prevailing on the global market in general as well as outlined major tendencies in each of the industries. The agency distilled three major general trends, which are driving our modern marketing world: differentiation, collaboration and humanitising technology. While they are nothing new, still there are some new approaches used within each of these tendencies, or at least, it's quite interesting to find out how best global brands are used these trends to evolve.
Difference is Vital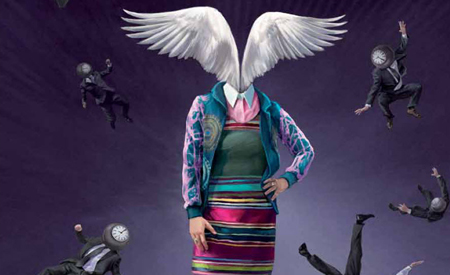 Photo: Interbrand's 2011 Best Global Brands report
Today, if you think different, you win. With the rise of social media platforms (Facebook, Twitter, Google+, YouTube and more), the information torrent is sweeping away trivial ideas and endeavors, and only those who really stand out can compete for a chance to be seen and heard. Numerous campaigns, spots, promotional efforts won't result in anything really worthy if you keep to traditional ways of engagement. Be different, that's the only way to survive. Along with offering its consumers new and rich experiences, Google and Pixar, for instance, have elaborated unparalleled designs for their workplaces. Gatorade with its Social Media Command center and adidas (#60) with its new office as well as numerous Nike's (#25) stores are other examples of brands' creative approach in developing their own corporate or retail locations. Some brands go out of their stores and offices to reach broader audience and amaze people with their pop-up projects (according to Anthem!, pop-up stores are one of the current trends). Gap (#88), which last year generated a lot of buzz with its unsuccessful logo change, shifted the focus from not needed and unwanted 'updating' of corporate identity to smart creativity by launching a pop-up store together with Cool Hunting last year and Gap's Global Creative Center, providing its consumers with an opportunity to take a look at the process of jeans creation as part of the 1969: L.A. and Beyond campaign. The brand's 'Pico de Gap' truck was set to hit the road in LA, NYC, Chicago and San Francisco this fall selling tacos, which reminds of The PUMA Social Street Car in Canada, which was delivering the message of PUMA's After Hours Athlete campaign created by the brand to celebrate people, who prefer spend their free time playing ping-pong and darts, the off-field games, and Levi's craft-focused workshops in LA, NY, San Francisco and Berlin.
Another great example of brands, which think outside the box and contribute to the world at the same time, is IBM with its numerous projects under the 'Smarter Cities' initiative. This grandiose global program aimed at leveraging technologies to the needs of citizens in a range of areas, has already improved certain industries—for instance, recently, the tech giant introduced a parking solution to tackle parking problem and reduce traffic jams. To address the same problem and contribute to the environmental movement, car manufacturers launch mobility and rental car share programs—Peugeot's 'Mu' concept, and Daimler's 'Car2Go' mobility project,—and launch highly innovative electro mobiles, which seem to be a quite groundbreaking offering now, but are sure to win the hearts of consumers in the nearest future. "With the Prius, Toyota (# 11) integrated its hybrid drive into a totally new model. This precedent inspired Audi and its e-tron sports car, and in mid-2011, BMW announced the "BMW i" as a sub-brand for the so-called Megacity Vehicle," reports Interbrand.
Collaborate or Die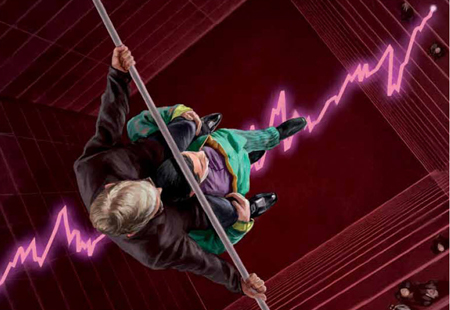 Photo: Interbrand's 2011 Best Global Brands report
Almost each week, global companies team up in pursuit of better performance and enriching consumers' experience, and nearly each day apparel and retail brands make an announcement about another collaboration to produce a new limited-edition line of shoes or hoodies. Why are they doing so? The answer is quite simple—they want to combine creativity and expertise of two contributors, broaden their outlook to appeal to more consumers around the globe (especially, it happens when brands from different continents come together, like Converse and Finnish textile giant Marimekko, Nike and Japanese clothing label Gyakusou to name but a few). It's not all about merging visual styles, as a rule, collaboration helps companies share their intellectual assets and boost their performance, just like Nokia (#14) and Microsoft (#3) did. The report states that "Nokia gains from its adoption of Windows Phone as its principle smartphone. Similarly, Microsoft gains through Nokia's contribution to the hardware design, language support, and leverage of the Windows Phone. Additionally, Microsoft Bing would power Nokia's search services across Nokia devices, while Nokia Maps would become a core part of Microsoft's mapping applications." In one of Popsop's recent overviews, we wrote that in this situation, the mobile maker lost a lot, but no matter what there's hidden behind the curtain, it's obvious that both of the brands have in some way benefitted from teaming up. The other examples of such collaborations include Ford's (#50) use of Google's Prediction API, LG and Prada's exquisitely designed mobile phone, BMW and Guggenheim's state-of-the-art travelling lab, which has been announced last year and launched this summer to be rolling across the world for the next six years, and many more.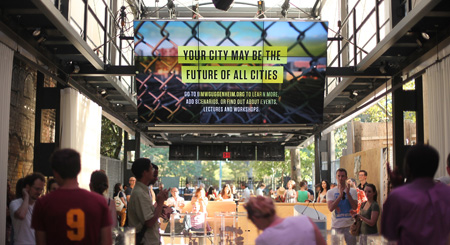 Photo: BMW Guggenheim Lab opened in New York
Partnering with environmental or charitable funds doesn't seem to provide consumer brands with any additional financial opportunity, still it gives them something equally important. Such collaborations contribute to the brands' positive image, help them be more philanthropic in the eyes of consumers and carry out the social and sustainability part of their corporate plans. For instance, "since partnering with UNICEF in 2005, Gucci (#39) has committed over US $9 million to the organization and stands as the largest corporate donor to UNICEF's 'Schools for Africa' initiative. Gucci's fundraising events and limited edition products for UNICEF have cast a positive, philanthropic light on a brand known more for its elite membership. For UNICEF, the partnership has brought high-profile attention to its causes as well as raised awareness among the greater public." Other examples include Coca-Cola's support for UN and WWF initiatives aimed to provide clean water to African deprived communities, Levi's water conservation efforts launched in cooperation with Water.org as well as Starbucks' (#96) involvement into the (RED) movement to alleviate AIDS.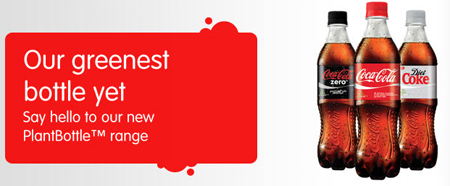 Photo: Coca-Cola's PlantBottle
Brands, which sell their products in plastic packaging, has been often accused of polluting the planet, and the only possible way for them to clear up their image was create a formula of biodegradable or recyclable bottles. For brands like Coca-Cola usage of glass containers for all of its servings is virtually impossible, it's just not economically grounded in the view of number of bottles and cans they produce daily, and that's why Coca-Cola was the first to offer a revolutionary solution to this problem, the PlantBottle packaging, manufactured from fully recyclable materials. Heinz (#49), another food producer which sells its ketchup in bottles, started using Coca-Cola's new sustainable packaging for its iconic ketchup line. "Coca-Cola, which spent upwards of US $150 million on the project, could potentially turn its PlantBottle into a viable profit center, with talk of more brand collaborations in the future. Additionally, by helping Heinz attain its goal to reduce energy usage, greenhouse gas emissions, water consumption, and solid waste disposal by 2015, it gains positive recognition for its innovative bottle. And yet, Heinz also gains from the partnership by saving on R&D, while quickly moving closer to making its environmental sustainability goals a reality," goes in the report. This spring, PepsiCo—Pepsi is ranked # 22 on the list introduced its competitor, the world's first PET plastic bottle made entirely from plant-based, fully renewable resources).
Humanizing technology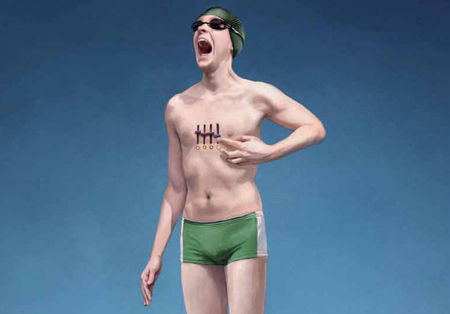 Photo: Interbrand's 2011 Best Global Brands report
Technology brands are on the rise now, they are the ones which actually shape out tomorrow and help up move forth into impossible (or at least what we consider impossible at the current moment). But pure technology is not as interesting as technology applied to and embedded into people's life today. We are getting more and more into the new life with using internet and a plethora of social media websites, which make us be online the biggest part of the day all year round, we are becoming numerous extensions of the web in some way—and at the same time, we feel that these innovations are becoming our extensions at the same time. "Cisco (#13) has even made this its guiding principle with its tagline 'The Human Network.' But perhaps an even more literal example is IBM's (#2) super-computer, Watson, which beat two top-ranking human competitors on the popular U.S. quiz show Jeopardy in February," writes the report.
"More than any other brand, Apple (#8) has succeeded in humanizing its technology through its sleek and tactile interfaces. In some cases, as with the iPad, its products are so intuitive that they are being used as learning tools for the autistic," adds the Interbrand's report. The iPhone and iPad has been recently used to launch Björk's 'Biophilia' groundbreaking album, the first one of this kind, allowing users to manage the content in the most interactive way.
In fact, technologies are dissolving in the human world, enriching our everyday experience, taking it to the next level. As to new communication approaches, innovative technologies work not only in the entertainment area, since doctors, for instance, are applying the new technology achievements to provide better guidance to patients in developing countries, offering more approachable solutions. New technologies in medical sphere, of course, are also reaching beyond mere communication. "For example, Medtronic created a low-cost, pill-sized pacemaker that can be inserted into a stent and embedded in the heart. It's helping to meet the demand for cardiac electro physiologists in countries like India, where there are few despite a high population," continues the report. GE (#5) Healthcare, for instance, is all dedicated to shaping a new age of patient care. Companies, which have never been linked to healthcare, are also getting closer to this area—for example, portfolios of Bosch and Philips, which used to be purely consumer brands, now include medical related items, which makes healthcare new green.
Other trends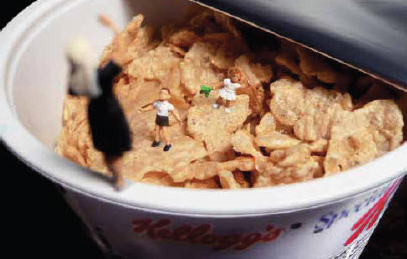 Photo: Interbrand's 2011 Best Global Brands report
The report unveiled both the three general trends and the tendencies in each industry. All of the notions outlined in the paper serve as guiding lights for marketers, which have to accept new rules to win the game. For instance, talking about consumer packaged goods, it also says that "brand messaging should be led first by packaging and then reinforced by all other communications" and states that "all of the money and time invested in TV spots, event sponsorships, and online promotions are wasted if they do not lead the consumer to engage with the brand on the shelf, at the check-out, and in the home." At the same time, consumer's demand for natural is getting bigger, and «'low carb' messages seem to be waning as consumers migrate back to taste as a primary choice driver." It also puts developing markets into the picture, calling to pay more attention to Brazilian, Indian and Chinese markets among others. The report points out that luxury brands need to get more mobile and respond to the people's views, "Global luxury brands… are now at the forefront of a shift in their paradigm. They have transitioned from focusing on their own spirit and history to reaching deep into people's—not necessarily customers'—lives and zeitgeist."
All of these tendencies are not the ones which can fade in the nearest time—frankly speaking, they are timeless? But every year, these tendencies evolve and show new facets. Which brands will follow these trends, how will they reshape their business strategies according to them and which result they will achieve? We'll get the answers next year, with the release of new Interbrand 2012.