Sir Richard Branson and New Mexico Governor Susana Martinez have officially opened a new terminal building named 'Virgin Galactic Gateway to Space' at the Spaceport America. The first commercial spacecrafts, WhiteKnightTwo and SpaceShipTwo, flew overhead as was watched by about 800 attendees.  The ceremony took place on October 17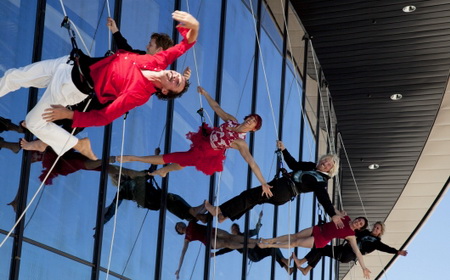 Photo: Virgin Galactic, by Marc Greenberg
During a spectacular ceremony the dedication of the Sir Norman Foster-designed building took place and the world's first commercial space line was announced to be open. Richard Branson, Virgin CEO and founder and his children Holly and Sam will be the first commercial passengers on SpaceShipTwo. The spacecraft was tested successfuly in May.
The Virgin Galactic Gateway to Space, a combined 120,000 square-foot terminal and hangar facility, will support up to two WhiteKnightTwo and five SpaceShipTwo vehicles. The building will also house the company's astronaut preparation and celebration facilities, a mission control center, a friends and family area and space committed to public access.
Virgin Galactic CEO and President George Whitesides said: «Flight testing by prime contractor Scaled Composites is progressing very well, with 30 SpaceShipTwo flights and 75 WhiteKnightTwo flights to date.
«We are also recruiting aggressively and assembling a highly talented and accomplished workforce focused on safe commercial operations led by Vice President of Operations Mike Moses, who will run our efforts at the spaceport.»
Virgin Galactic makes moves not only in commercial direction. The company announced last week that it had been awarded a contract under NASA's Flight Opportunity Program for research flights to a potential value of $4.5 million. The new flight reservations have been made by research and education institutions such as Purdue University, Space Florida, the Challenger Center for Space Science Education and Southwest Research Institute to support research initiatives and inspire students.
The dedication ceremony was visited by over 150 Virgin Galactic customers from 21 countries who have already made deposits to fly to space. The cost of a space flight with Virgin Galactic is $200,000. More infornation is available on the official web site.