Walt Disney Co. announced its plans to build theme-park rides and attractions based on the 2009 hit film Avatar, by James Cameron. The first is to appear at Walt Disney World around 2017.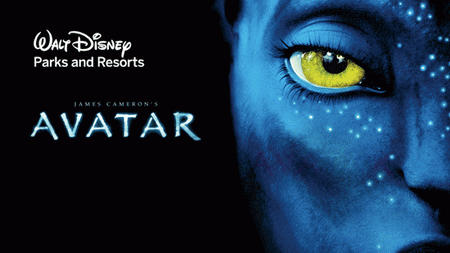 Photo: Disney Parks
According to the WSJ, Disney would be building the attractions under long-term, exclusive agreements with Twentieth Century Fox, which distributed Avatar, and director James Cameron's production company, Lightstorm Entertainment.
Construction is to begin in early 2013 and the estimated cost of the project is about $400 million. The attractions are to be constructed by Walt Disney's ride designers, known as Imagineers, in collaboration with Mr. Cameron.
The companies are still discussing the plans. Speaking at a Tuesday press conference, Disney Parks and Resorts Chairman Thomas Staggs said: «We're just beginning the development phase on this project.»
James Cameron said the attractions would probably include recreations of environments from Avatar and possibly from two sequels that are planned for release in 2014 and 2015. It means, the new attractions will feature a plethora of exotic blue-skinned creatures, plants and scenery. Many of these elements, including a bioluminescent forest and dragon-like flying animals, are likely to be part of the Disney World installation, according to Disney.
The new theme-park might be extremely popular place of attraction for numerous fans of the movie. Mr. Cameron said, «The scenes people liked best weren't the obvious ones, like the big battles.» Instead, he said, the favorites were «The creatures, learning to fly, being in the forest at night. The impression we got was that people just liked being in that world.»
With sequels to be on screens in two or three years, the project will have new theme elements to develop.
Some global brands have already used Avatar in its marketing campaigns. For example, McDonalds had an in-restaurant promotion with a special sweepstakes incentive for Twitter followers when the film launched. Coca-Cola Zero used it in a promotional viral.