Avon Products, Inc. has marked the celebration of its 125th anniversary year at the Avon Foundation for Women Global Voices for Change Gala by honoring global champions working to end breast cancer and domestic violence. Within the event the winners of Avon's global online singing talent search for women and songwriting competition for women and men, Avon Voices were announced.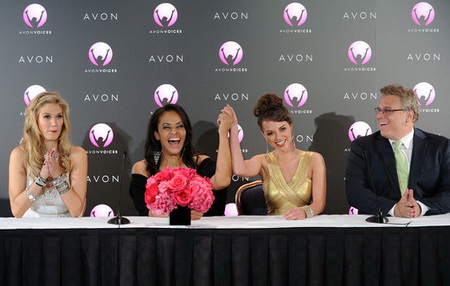 Photo: Avon Voices Judge, Delta Goodrem, winners Selena Gittens,
and Evelina Anusauskaite from Lithuania, and VP of Global Communications for Avon,
Joe Billone, from Getty Images for Avon Foundation
During the star-studded celebration at the Marriot Marquis in New York City's Times Square, more than $2.3 million for the Avon Foundation for Women was raised. This year, the annual event attended more than 800 guests and performers from 39 countries.
Andrea Jung, Avon Chairman and CEO, Colombian singing star Maia, and Brazil's biggest pop star Ivete Sangalo presented the first Global Breast Cancer Medical Advancement Champions Award to the Barretos Cancer Hospital, Brazil that assists nearly low-income 3,000 patients per day.
Stowarzyszenie Amazonki, the Association of Amazon Women, an organization providing support to women affected by breast cancer in Poland received the second Global Breast Cancer Medical Advancement Champions Award. The organization's board member, Ewa Grabiec-Raczak, who is also a breast cancer survivor, received the Award from Andrea Jung and Russian singer Valeriya.
The Women's Crisis Center in Quezon City, Philippines, for its life-saving work to support victims of domestic violence accepted the first Global Community Advocacy Champions Award  from hands of Avon Foundation for Women President Carol Kurzig, Filipina singer, actress Lea Salonga, and Australian Artist of the Decade Delta Goodrem.
Refuge, the largest single provider of specialized domestic violence services in the UK, received the second Global Community Advocacy Champions Award. It was handed to Lisa King, an advocate in the effort to end violence against women and head of communications for Refuge, by Carol Kurzig and  singer Natasha Bedingfield.
Cynthia Leive, editor-in-chief of Glamour Magazine was presented with the 2011 Voice for Change Champion Award in recognition of Glamour's commitment to empowering and educating women by calling attention to the critical issue of partner violence. This is a result of Avon's partnership with Glamour in the Tell Somebody text-to-donate campaign that raised awareness and funds for the National Domestic Violence Hotline that took place earlier this year.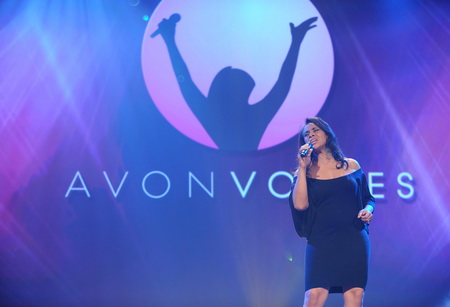 Photo: Avon Representative Selena Gittens, from Getty Images for Avon Foundation
Also at the Gala, the Avon Voices winners were announced. Selena Gittens of Canada, an Avon Representative, and Evelina Anusauskaite of Lithuania were chosen from among the top ten finalists, based on a combination of their live performances at the Hard Rock Café on November 1, and 2.5 million votes received from around the world.