Coca-Cola is rolling out the U.S. initiative to support polar bears, a multi-platform campaign with a range of elements including QR codes, which can be spotted on dedicated Coca-Cola cups distributed by 7-Eleven. This is the first QR program launched by Coca-Cola in the USA (previously, the company launched QR code programs tied to other campaigns in Japan and Germany), and it helps promote the message of the initiative, launched by Coke and WWF earlier this month to raise awareness about the need to protect polar bear's Arctic habitat.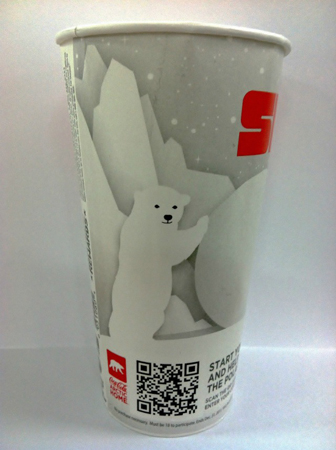 Photo: www.mashable.com, Coca-Cola's polar bear cup
By scanning codes on Slurpee and Big Gulp cups and 7-Eleven in-store signage sups using their iPhone and iPad, users launch a Facebook-connected Snowball Effect by Coca-Cola app, which can be also downloaded for free from Apple's App Store, through December 31. "Start by challenging Facebook friends to a Snowball fight and scoring points to grow your snowball. The more Snowball Fights you have, the more awareness you raise for the polar bear. Keep building your snowball by checking in at 7-Eleven stores and entering codes on Slurpee cups, Big Gulp cups and specially marked Coca-Cola packaging," reads the description to the game.
The more users play, the more points they score—the ones with the most points, will get awesome prizes including iPads (80 tablets will be handed to the most active gamers) and a trip to the Arctic for two to see the home of polar bears with their own eyes. The app also directs users to the major online platform of the campaign, www.ArcticHome.com, where they can learn more about the initiative, which aims to collect $1 million with consumer donations for the polar bears plus $2 million from the company itself.
"7-Eleven stores are raising awareness for their Arctic habitat by creating the Snowball Effect app for our guests to learn more about WWF, the polar bears and to have fun,» commented Jesus Delgado-Jenkins, 7-Eleven's senior vice president of merchandising, marketing and logistics. "Users can share the Snowball Effect app with friends on Facebook or play each other. They can enhance their game-play by checking-into our stores, downloading codes on specially marked Coca-Cola products and earning points for prizes."