Coca-Cola system in India has announced it will invest US$2 billion over the next five years, beginning in 2012, into the Indian nonalcoholic ready-to-drink (NARTD) beverage market.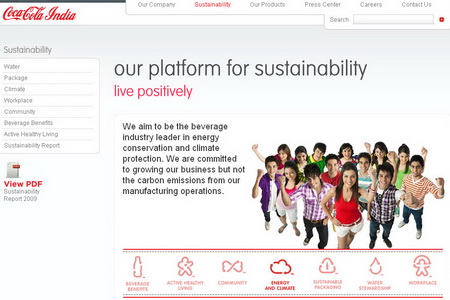 Photo: Coca-Cola India's sustainability platform, a snapshot from www.coca-colaindia.com
Being a strategic growth country for The Coca-Cola Company, India ranks among its top 10 markets in volume globally and as the largest market in the Eurasia and Africa Group. Thums Up and Sprite are the country's top selling soft drink brands, while Maaza is India's largest selling juice drink.
Ahmet C. Bozer, Coca-Cola's President, Eurasia and Africa Group, said, «India is one of our most important growth markets as we work toward our 2020 Vision of doubling system revenues and servings this decade. The opportunity in the packaged beverage segment is immense, and our efforts in India are focused on being the beverage of choice all day, every day. If we continue to do the right things each day and at all times, it would not surprise me if India becomes one of the top five markets for the Company globally by the end of this decade.»
In 1993 Coca-Cola system has re-entered India and since then it has invested over US$2 billion. Now it employs more than 25,000 people. The next investments will further catalyze economic growth and create new opportunities for the local community. The system is estimated to have created indirect employment for more than 150,000 people in related industries as well.
Coca-Cola was recently recognized as India's most trusted beverage brand in Brand Equity's 2011 'Most Trusted Brands Survey,' and Coca-Cola India ranks among the top five most respected FMCG companies in India as ranked in Business World's 2011 'Most Respected Companies Survey.'
The Coca-Cola system also closely collaborates with non-governmental organizations in India for community development and sustainability initiatives. Coca-Cola and its bottling partners are strong supporters of education and sports in India through programs like the 'Coca-Cola NDTV Support My School' campaign, which is aimed at creating more than 100 model schools in India.