Google's secret laboratory that has been under discussion for a long time is leaking information. The clandestine experiments such as development of helper robots and Internet-enabled refrigerators as well as space elevators are being conducted in a lab that really exists and is called Google X.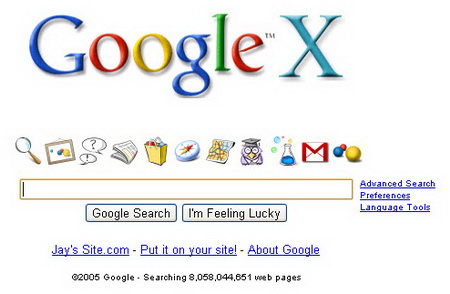 Photo: Mac Os-like Google Search interface, a snapshot from googlex.jayssite.com
According to the New York Times, the lab has a team of engineers working on the experimental projects that may change the world in future. The name Google X dates back to 2005, when a Google engineer posted a pilot web site designed to show a Mac OS X-like interface for the company's services.
Google spokeswoman Jill Hazelbaker commented in an interview to Times, «While the possibilities are incredibly exciting, please do keep in mind that the sums involved are very small by comparison to the investments we make in our core businesses.»
People familiar with the issue say that Google X has one office at the company's Mountain View headquarters and another devoted to robotics at an undisclosed location. The filtering information only raises interest to the technology giant's hush-hush lab and make the society wonder what would shake the world next.
Times reports that one of the main research topics at the Google X is how to connect objects to the Internet. Among the items that could be connected: a garden planter (so it could be watered from afar); a coffee pot (so it could be set to brew remotely); or a light bulb (so it could be turned off remotely). The more the objects contact Internet, the more benefit Google—the No.2 Meaningful Brand in the world according to Havas Media—has.