The article is written by Ted Mininni, President of Design Force Inc, USA
Marketers know how to trigger children's emotions; how to trip the "have to have it" switch on. One of the best, often-sought ways to endear brands to children is the use of licensed characters on kids' products. Yet this isn't always a success. If anything, it can be a hit or miss proposition.
No matter how hot licensed properties are, some things have to be understood before marketers seek to leverage them for their brands. For one thing, brand and licensed property have to be a "fit". The brand itself has to be clearly positioned with kids and their moms who make the final purchase decisions. Leveraging those assets that resonate with both children and their parents, then adding a licensed property with corresponding values makes sense. Making certain that the licensed character's values are a full and equal partner with the brand only strengthens both. One brand should never be weaker than the other.
Children equate characters with specific traits, values and stories. It is essential to bring them to life by carrying their stories forward on licensed products. Otherwise, they appear as lifeless images on products; they aren't vibrant and don't attract kids' attention for long enough to trigger their desire to purchase. When product brand and licensed property work in sync, magic happens. Children love them and moms feel confident in endorsing them because they are perceived as healthy, wholesome options for their kids.
Finding out about the specific attributes children love about a character and making its story live; then connecting that story to the brand in a convincing manner is crucial. The brand then has the "endorsement" of the licensed property. When this kind of process occurs, children are not only going to recognize licensed products, they are going to connect to them on an emotional level.
As is the case with adults, the emotional appeal of brands far outweighs mere recognition and the rational understanding of features and benefits. Emotions tie every demographic, including children's groups, to brands. Strong, positive emotions tie consumers of every age into brand loyalists.
In some cases, it may make sense to subtly tweak the actual product to better align brand with licensed property in a more seamless manner to accomplish this objective. Hard to do? Not if the proper research is done and both brand and licensed property are deconstructed to get to their core in kids' minds.
An example of well-executed brand licensed product is Kellogg's Lego Fun Snacks. How about healthy fruit snacks shaped like Lego blocks in bright, fun colors? How about packaging that leverages both the Kellogg's brand and the Lego brand in perfect harmony? Artwork depicting larger-than-life iconic Legos speaks to kids and parents. How smart is it to fashion the product into this shape to reinforce the strength of the licensed brand? The entire concept speaks of value, wholesomeness and a marriage of two trusted brands.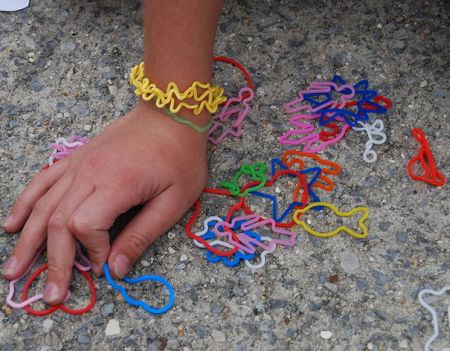 Photo: a kid playing Silly Bandz, image from Wikipedia.org
Every parent knows all about Silly Bandz silicone rubber bands formed into shapes including animals, numbers and intriguing objects worn stacked on wrists and forearms. Plain old rubber bands? Not for a moment. Wild shapes and neon colors are anything but basic. That's why bandz are top-selling toys.
Some of the strongest licensed brands in the world have taken the concept to another level, thanks to leveraging their cachet with terrific packaging. It's no accident that Disney's Toy Story 3, Mickey & Friends and Princess bandz are now among the top sellers in the category. Pop cult favorite bandz include Justin Bieber and Twilight.
As strong as these properties are, the packaging has to trigger kids to want to purchase these bandz among the myriad shapes and choices on the market. The Toy Story 3 brand identity and Buzz Lightyear are instantaneously recognizable to kids, perfectly capitalizing on the huge popularity of Disney's beloved characters while cleverly featuring the latest ones in cartoon form on top of see-through packaging showing all of the Toy Story bandz in the package. This fuses classic favorites with new friends for kids in a convincing manner.
Entertainment products are great vehicles for strong licensed properties, too. Nintendo has leveraged the immense popularity of its Wii Just Dance and Just Dance 2 dancing video games to a new level. By incorporating the legendary Smurfs with a human family on its new "The Smurfs Dance Party" video packaging, Nintendo intends to maximize this summer's impact of Sony & Columbia Pictures' hybrid live-action/CGI blockbuster movie: "The Smurfs". New songs and choreographed dance steps are designed to give kids and parents hours of fun and entertainment at home. The packaging makes it clear and obvious. Kids will respond to the cuddly blue Smurfs while parents respond to the heritage cues of these beloved characters from their own childhood memories.
When brands and licensed characters come together in such a convincing, powerful fashion, kids and their parents not only recognize them instantly, they gravitate to them and become emotionally engaged. A relationship develops between consumer and licensed product. When that happens, every other product in the category disappears. An enviable position for any brand to find itself in. Clearly, the result of a well-researched, deftly executed branded, licensed product.
About the Author
Ted Mininni is President of Design Force, Inc., a leading package and licensing program design consultancy to the consumer product and entertainment industries. He can be reached at 856-810-2277.