Lacoste with help trendsetting Paris boutique colette will promote its new products in Paris in the beginning of the next year. Colette will launch a retail preview of Lacoste Lab on January 9, 2012.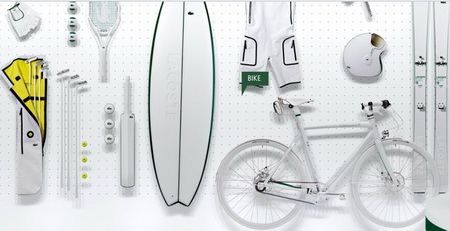 Photo: various products from Lacoste Lab, a snapshot from www.lacoste.com/lab
January in Paris is a month filled with fashion and design events including menswear fashion week on January18—22 and women's couture on January 23—26 as well as the interior and design show Maison et Objet on January 24—28. Lacoste will use the increased interest to fashion products and roll out its Lab filled with 'dream' products such as skis, surfboard, bicycle, boomerang, moto helmet and balls for both the sports of soccer and rugby. In addition, the company will present the Lacoste Citroën Concept car. All products will be available exclusively at colette and from their website www.colette.fr through the end of January 2012.
With the Lacoste Lab the brand celebrates its tradition of innovation and its founder, René Lacoste who was an inventor and designer. Among his inventions are such products as the famous L.12.12 polo shirt and technical and revolutionary tennis rackets, balls, golf clubs and golf bags as well as the first ever tennis-ball throwing machine. The artifacts produced by the Lacoste Lab are aimed to build a bridge between the brand's heritage and its future.
"By seeking new materials and new designs, the Lacoste Lab expands the ways in which Lacoste expresses itself and boldly takes the crocodile into fields which it has yet to venture", explains Lacoste Design Director Christophe Pillet.
All Lacoste Lab items were designed by different experts in their respective fields. The soccer and rugby balls are engineered by Mitre Sports. The boomerang is produced by 3B of thin birch plywood. GPA Design released the moto helmet in carbon, available in S, M, L and XL sizes. The surfboard was shaped by J.P. Stark and engineered by Notox, while the skis (in men's and women's sizes) are produced by Black Crows. LOOK produced the hi-tech urban performance bicycle.

Photo: Lacoste helmet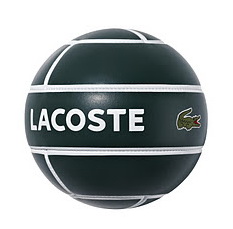 Photo: Lacoste ball