Malibu, the well-known rum which sees taste innovation, beach partying culture and creative collaborations as essence of its brand style, is about to launch a new product Malibu Red slated to arrive in the U.S. stores in March 2012. To promote the new addition to its portfolio, the iconic rum blended with tequila, Malibu has teamed up with popular R&B singer and songwriter, film and television actor, Ne-Yo. So far, the brand doesn't unveil much detail on the creative collaboration, but the press release discloses that "the story of Malibu Red will unfold through exclusive music, performances, video and digital conversations."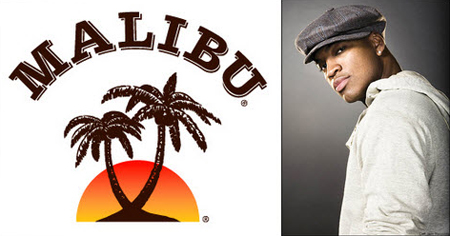 Photo: Malibu logo and Ne-Yo's photo
As the new brand ambassador of the brand and the creative force of Malibu Red, Ne-Yo has been deeply engaged in developing content for global audience that "weaves a narrative" around the delicate taste of the new product. "From music to film and everything in between, Malibu and I have been working behind-the-scenes to create a rich experience for Malibu Red that allows me to naturally bring my story telling, acting, singing and dancing to the table. Beginning with its smooth and fiery flavor fusion, through branded content, we will bring Malibu Red to life in a way that invites consumers to be creatively inspired by what is possible when you're out with friends, ready for that night you'll never forget," shared Ne-Yo.
The new product, developed this summer and designed to take "Malibu drinking occasion into nightclubs and high energy accounts," is a 70-proof mix of smooth Caribbean coconut rum and fiery silver tequila, which will be sold in the silver and red bottles. The design of the bottles will have a lot in common with the packaging of the flagship Malibu offering, but will have a yet more sophisticated and premium look (the visual identity for Malibu Red was developed in cooperation with the artist as well). The launch of the product will be supported by a grandiose global marketing campaign, which will include TV (an advert featuring Ne-Yo was filmed in Spain), print and a wide range other advertising components. In addition to that, Malibu Red is planning to become a sponsor of Ne-Yo's concert tour in 2012.
"Malibu Red is not just another celebrity-endorsed product. Turning the term partnership on its head, Ne-Yo has really served as the Creative Director of Malibu Red from beginning to end—lending his 'smooth' talents and creative vision to create a product experience— from flavor to film— that will push boundaries in the spirits category," commented Ian Crystal, Global Marketing Director, Malibu.