Saatchi & Saatchi created a multi-city, multi-media spectacular for the next installment in Deutsche Telekom's 'Life is for sharing' campaign that unfolded simultaneously across five markets on November 17 starring the world's biggest selling female artist of all-time, singer-songwriter Mariah Carey. Mariah Carey appeared before audiences in Germany, Croatia, Macedonia, Montenegro and Poland simultaneously in the form of a hologram interacting with real dancers and live audiences in each location, creating a unique 'life is for sharing moment'.
Appearing to the audience as if she was live in concert for the first 10 minutes of the show, her hologram form then exploded into the sky, revealing the surprise, before she reformed to lead all the countries in a moving rendition of the traditional carol 'Silent Night', then finishing with the all-time favourite 'All I want for Christmas is You'.
The multi-media spectacular was witnessed by thousands of people around Europe in person and was streamed live globally through the lifeisforsharing.tv channel.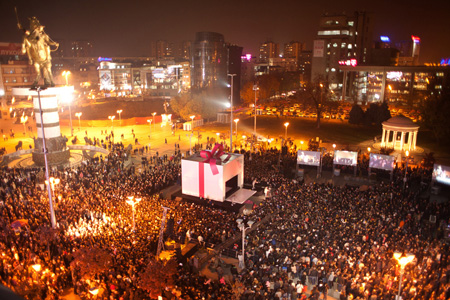 Photo: One of Deutsche Telekom's holographic concerts with Mariah Carey
"This is 'Life Is For Sharing' at its superlative—an amazing moment that people be part of in so many different ways, all across the world. From an agency side it has been a challenge to coordinate a project of this scale across the multiple markets, but together with our ideas, our other greatest strength is our network. We have mobilised people at every level. The stakes are even higher because in the 20 minutes we will need to capture all the film footage we need to create spectacular image films, product spots, print and PR assets," said European Creative Director for Deutsche Telekom, Jason Romeyko, who lead an international team across the Saatchi & Saatchi EMEA network including Poland, the UK, Macedonia, Montenegro, Germany and Croatia.
Carey's holographic form was created by world leader in hologram technology, Musion and is the first time the technology has been on this scale and with an artist of Carey's stature. The events were produced by @radical.media London, one of the world's top production houses and Directed by Dennis Liu, who first came into contact with the agency through his selection for the Saatchi & Saatchi New Director's Showcase. Saatchi & Saatchi is also continuing their collaboration with Natricia Bernard who choreographed Katy Perry's 'Firework' video which won 'Video of the Year' at the MTV Video Music Awards in August.
Saatchi & Saatchi are the international agency for Deutsche Telekom in Europe. The 'Life is for Sharing' platform has run across 10 markets since 2008 and has featured a series of featuring a innovative events including a live re-enactment of the cult Rovio game 'Angry Birds' that generated over 9 million YouTube hits; a Royal Wedding spoof which has now been watched by more people than the real Royal Wedding itself; the Katy Perry video for 'Firework' which has had over 249 million hits; «Sing-a-long» in Trafalgar Square, where 13,500 people took part in a mass Karaoke; 'Dance' which featured a flash mob in Liverpool Street Station and has had over 31 million hits; and the heart-warming 'Welcome Back' filmed at Heathrow T5 which has attracted more than 8.5 million hits.
Above the line communications will begin on November 23, when the television commercial will air in Poland. Please watch the online version, officially running from November 24 with further releases of the TVC across European markets in the lead up to Christmas.