McDonald's is redesigning several restaurants in France. The pilot location in Villefranche Ouraga 40 km from Toulouse has already been completed by Paris-based designer Patrick Norguet.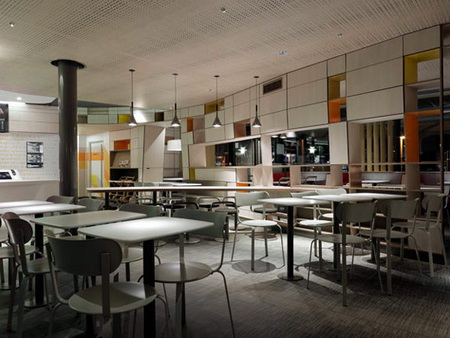 Photos: McDonald's interior by Patrick Norguet, from www.psfk.com
The fast food giant has been developing various regional architecture and interiors of its restaurants since 1998 when a Croatian studio njiric+njiric arhitekti has transformed a traditional fast food restaurant into a regional location with giant panels of chain link fence. One of the famous recent redesigns includes an urban London location by SHH which won over half a dozen design awards. Just in time as the Olympics approach and McDonald's is the official restaurant of the Games.
Norguet was tasked to make a radical step out of a traditional McDonald's concept that presents the chain as a family fast food dining. The foundation of the new interior design is the so called 'root' or a floor to ceiling high space divider that is made of birch plywood, says PSFK.
Grey and white colors of the root are diluted with colorful panels relating to McDonald's brand color. There are also digital kiosks which allow customers to make orders without leaving their tables.
McDonalds seems to unite more and more people as the layout of the new interior provides seating for larger groups, while other current urban prototypes have seating for smaller groups and individuals.
New interior features several furniture pieces and materials by Norguet designed for other companies. The designer has altered his chair 'STILL' for Lapalma to make a counter stool version specially for McDonald's. The ceramic floor tile also designed by Norguet for Lea Ceramiche covers the floor of the restaurant.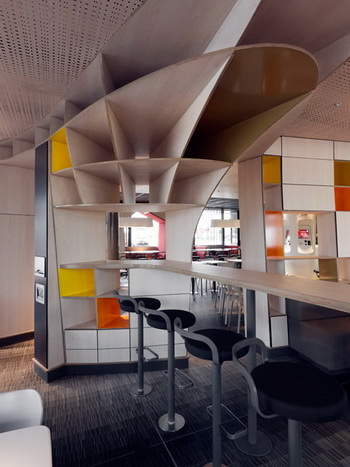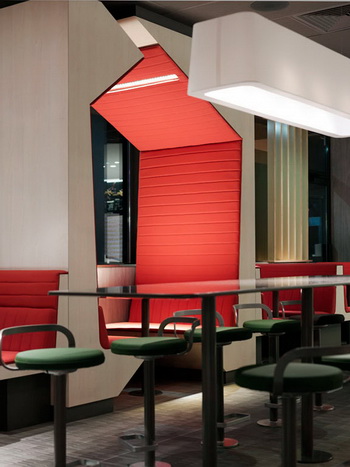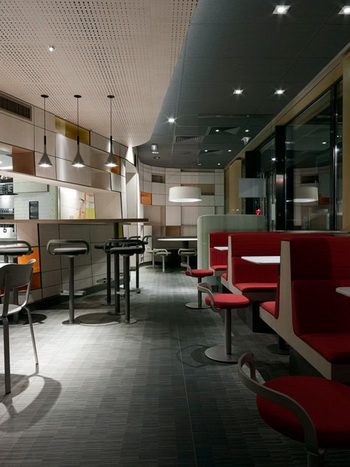 Photos: McDonald's interior by Patrick Norguet, from www.psfk.com