Microsoft is celebrating one year of Kinect Effect. The revolutionary Kinect technology beat all records already in its first 60 days on the market, when Microsoft sold 8 million devices. This made Kinect the fastest-selling consumer electronics device in history, according to Guinness World Records.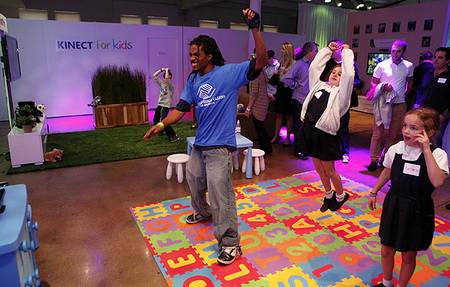 Photo: Children experience playful learning with Kinect for Xbox 360,
from www.microsoft.com
"It's been an amazing 12 months—it's been absolutely inspiring," says Alex Kipman, general manager of incubation for Microsoft's Interactive Entertainment Business. "When you have a great vision you expect it to do great things, but it's humbling and inspiring to actually see it happen and exceed your expectations in terms of the abilityover a very short period of time—that you have affected the entire world."
Within a year, the device for Xbox has spread beyond living rooms where children played interactive games and reached hospitals and education centers when it turned into a useful tool.
Affordability of Kinect served well too. The sophisticated technology available only for $149 allows people to own a device that has 3D motion capture, facial and voice recognition, multi-array microphones, depth sensors and an RGB camera.
Kipman says more than 200 businesses, including 25 Fortune 500 companies, have joined a global pilot program to explore Kinect's commercial possibilities. Toyota, Houghton Mifflin Harcourt, and Razorfish are among those that signed up. Last summer adidas has released its miCoach for Xbox 360, a new interactive athletic training program.
Kinect usage in surgery broadens horizons for medicine as surgeons now can look up a patient's medical information during the operation without leaving the sterile operating room and using a non-sterile computer. Instead, they get the necessary information on site and absolutely hands-free.
In June Microsoft released an academic and enthusiast software development kit for non-commercial projects. Now Microsoft announced that the Kinect for Windows commercial program will launch early next year, giving global businesses the tools they need to develop applications on Kinect that could help them taking great strides forward.
Microsoft keeps on promoting Kinect within its first global marketing campaign. This holiday season, more than 75 Kinect games will hit the market compared to the 17 released last year. They include such upgraded popular games as 'Dance Central 2' and 'Sesame Street: Once Upon a Monster' as well as Kinect-enhanced Xbox games such as 'Forza Motorsport 4.'