Nike, a brand that never stops supporting athletes in various categories including skateboarding,  running and basketball with films and initiatives, has introduced a new innovative product called SPARQ Sensory Performance (SSP), which is a system of technologies, products and programs designed to assess, analyze and improve an athlete's visual and sensory performance.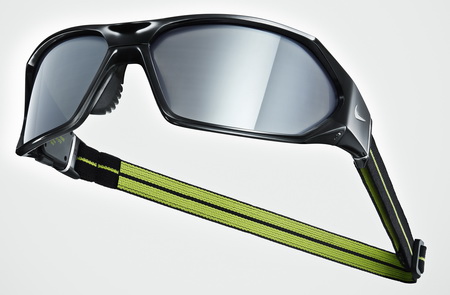 Photo: Nike SPARQ Vapor Strobe Eyewear, by Nike
"Sensory training is at the cornerstone of how we can build better athletes," said Paul Winsper, SPARQ Performance Director. "With SSP we're able to integrate both sensory and physical training together. This performance philosophy has resonated with some of the top athletes, teams and clubs throughout the world."
To improve an athlete's performance, the SSP uses the Nike SPARQ Sensory Station, which is an interactive touch screen device that helps evaluate athletes on 10 sport-relevant visual and sensory erformance skills. Athletes can receive all the data needed to build a personalized training program.
The athlete's personal data-based SPARQ Sensory Performance profile compares an athlete's results to others at their sport, position and skill level to better guide him or her to the best result.
SSP includes 'improving tools': the Nike SPARQ Sensory Training Station and Nike SPARQ Vapor Strobe Eyewear. Nike SPARQ Sensory Training Stations help athletes improve multiple sensory performance skills using software-based training modules. The Eyewear priced at $300 uses a strobe or flicker effect that can be varied in speed, athletes can develop quicker reaction times and motor skills. Athletes can switch the Eyewear between clear and blocked vision, which trains the brain to anticipate what's coming when the eyes are blocked.
The system has already proved its effectiveness. Due to several universities' studies the Nike SPARQ Vapor Strobes improves the ability to pick up subtle motion cues; visual information processing; and timing of motion.
The Nike SPARQ Vapor Strobes are available globally at NikeStore.com while the Nike SPARQ Sensory Station and Nike SPARQ Sensory Training Station are available through the Nike SPARQ Sensory Training Help Desk.