Nokia Research Center has presented its HumanForm, a transparent and bendable smartphone that amazes with a jellyfish-like design and intuitive approach to its control.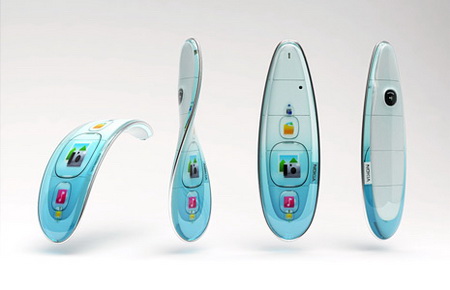 Photo: Nokia HumanForm, from conversations.nokia.com
This year, Nokia Research center celebrates its 25th anniversary—a quarter of century during which the technology experimenter has been changing the world. The new HumanForm presents a smart phone model that allows users to know the mood of a person that phones him or her by using a mood recognition technology and zoom in and out by simply bending the device. It was designed by Tapani Jokinen & Jarkko Saunamaki for Nokia Design and Nokia Research Center.
"It looks like a creature which has just reached the next rung of the evolutionary ladder. A baby jellyfish that somehow managed to flip itself up the beach out of the sea, instinctively searching for the next environment to sustain its ultimate metamorphosis into a sentient being," writes one of the Nokia Conversations' authors, Trevor in a post.
"When lights inside it start flashing and images appear on its skin, I want to reach for a pitchfork and round up a mob of angry peasants to help me chase it back to the depths of the ocean."
HumanForm experiment follows the Kinetic Phone by Nokia which was developed by Nokia Research Center taking into consideration consumers in countries with cold winters, that is people that wear gloves. Using a touchpad in gloves is absolutely uncomfortable so the technology allows manipulating the device even in gloves using twisting, squeezing and bending to answer calls and searching for files on the phone.
The Kinetic could be on the market in about three years. Tapani says, Nokia already has all the technology to produce it. The Kinetic was one of the biggest attractions at Nokia World 2011 at London's Excel Centre where it also unveiled a portfolio of its new phones, services and accessories.