Carbonated drink brands put male into focus this fall—a few weeks ago, Dr Pepper rolled out its Ten version for machos across the U.S., and now Pepsi MAX, another brand targeting male consumers, is stepping out with the new marketing activity revolving around male friendship. For the new digital campaign dubbed Top Mates, which has been launched on Facebook, the brand teamed up with advertising agency Clemenger BBDO Sydney. The promotion, which is supported by TV and radio elements across the country as reported by www.bandit.com.au, will be running for a month, but the brand is going to continue using this idea for further fan engagement.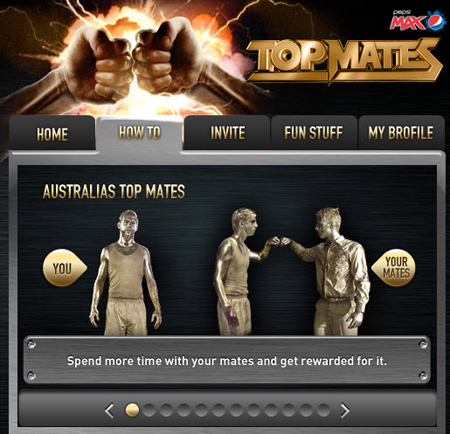 Photo: Pepsi MAX Australia Facebook Top Mate application
To participate in the project and win a $30,000 for 'bro-cation' (vacation with bros in any place in the world) users (primarily, the campaign is targeting consumers in their 20s) are invited to the Pepsi MAX Australia Facebook fan-page, where they will find the Top Mates app, which encourages male to spend more time with their buddies. The brand has released a free smartphone application, which is to be used to imitate 'bro-fists' at check-ins in order to earn points and badges for spending most time with mates.
Users of the application, developed by Clemenger BBDO Sydney, can join the activity by making their bro-profile and selecting their buddies from the Facebook friend list with whom they are going to hang out as well as view the leader board to track the success of other participants. Everything one has to do here is to check-in with his bros as often as possible—"mates can only tap their phones together once every two hours to collect points" writes www.bandt.com.au. The app also provides participants with additional features, Stealth Tools, to escape conversations and appointments with their girlfriends or wives when the guys are out with buddies: it provides bros with fake MMS messages as well as fake voicemails with various sound effects that enhance credibility. Bro-friendship is sacred, and any lies told to protect it are not real lies.