Reebok has partnered with CrossFit, a developer of multifunctional fitness programs to set a new Guinness World Record by creating the biggest 3D painting in the world. To do it, street artists '3D Joe & Max' have turned part of London's Canary Wharf quayside into the longest and largest 3D artwork.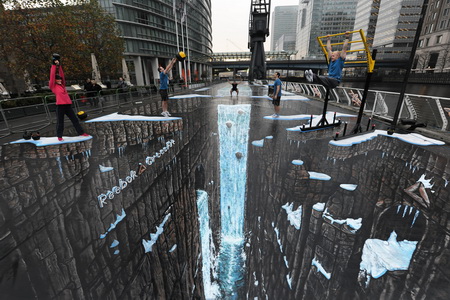 Photo: The biggest 3D painting in the world, by Reebok
The record was beaten yesterday, on the World Guinness Record Day, as the 1,160.4 metres square and 106.5m long painting was unveiled showing a breathtaking waterfall and rocky outcrops in a deep canyon image. This painting beats the previous 892.15 metre square record set by China's Qi Xinghua, and will be removed today.
There was even a horizontal bar standing on one of the outcrop and people standing in both sides of the 'canyon' could play ball passing it to each other while standing just 'on the edge.' People could join the Reebok CrossFit team in 'extreme' workout and then share their result's on Reebok's Facebook page.
An interactive 3D environment created by the artists features an 'inscription on the rock's wall': 'Reebok' and 'CrossFit'. The company's have partnered earlier this year to challenge people's perception of fitness. Many people think fitness is something they must do following their doctor's prescriptions or to loose weight. CrossFit and Reebok change this idea and make fitness fun and thrilling.
Reebok is a title sponsor of the International CrossFit Games that is aimed to find the most trained human being in the world. In addition, the partnership results in Reebok CrossFit gyms or 'boxes'—that's what the program fans call it. Reebok is also to launch a new apparel collection for CrossFit trainings.
"Everybody knows that fitness is important but people do it not willingly," said Chris Froyo, Fitness Director, Reebok. "Our partnership with CrossFit is aimed not only at the creation of ultramodern outwear and footwear for fitness and sport competition. We've partnered because CrossFit is a high-performance and interesting fitness program that unites people".