Starbucks is officially kicking off its Christmas campaign by introducing the whole pack of festive offerings. Last week, the brand introduced its Cup Magic application, encouraging consumers in the U.S and Canada to animate the characters on Starbucks Christmas cups by pointing mobile devices on them. Now, the brand has launched the dedicated mini website merry.starbucks.com to help its consumers "make the season merrier with the ones they love"—in the online hub, one can learn more about the company's winter offerings, get the link to the AR application for iPhone and iPad (it will be also available Android-powered devices soon), create an e-card and send it to family and friends via e-mail or Facebook.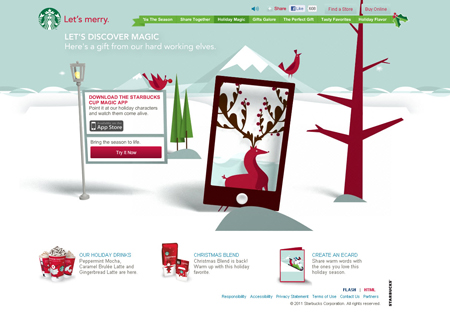 Photo: A snapshot from the www.merry.starbucks.com website
This holiday season, Starbucks also offers its consumers popular holiday beverages, including Peppermint Mocha, Gingerbread Latte, Eggnog Latte, and Caramel Brulée Latte, which were also joined by new Skinny Peppermint Mocha (the request to develop this drink was submitted to the MyStarbucksIdea.com online idea bank). Starbucks is also inviting its U.S. and Canada consumers to come with their friends to one of the Starbucks participating stores on November 17-20 between 2-5 p.m. and get a free handcrafted holiday beverage as a complimentary one with the purchase of any holiday drink of the same or greater value. In addition to this, Starbucks introduces Peppermint Brownie Cake Pop and Chocolate Crème Whoopie Pie, new holiday Starbucks Petites, which broaden the range of mini treats, introduced by the coffee chain earlier this year.
Since 1985, each year Starbucks offers its consumers Starbucks Christmas Blends in celebration of the most anticipated holiday of the year, and almost each year the packaging of this festive offering gets a visual update. Last year, the company revealed new lovely design featuring fairy-tale characters for its holiday range packs, and due to the great success of the design Starbucks has preserved it for this season. Now, consumers are also can purchase Starbucks Christmas Blend Ground for making coffee at home for family and friends. "Our aged Sumatran beans combine with earthy beans from Asia/Pacific and lively coffees from Latin America to form one incredibly festive coffee," says Starbucks about the blend. The company also offers this sweet and spicy coffee in Starbucks VIA Christmas Blend instant coffee version—the the whole range here (it also includes Starbucks Holiday Coffee Sampler of six coffees).
But the company has something more to offer this festive season than just coffee. In its press release, the company also writes that "from exquisite gift sets to a beautiful assortment of seasonal mugs and tumblers to the ever popular Starbucks Card, you are sure to find just the right gift."